VidMate is a video download tool that helps download videos and music file from various sources on the Internet like Vimeo, YouTube, Facebook, DailyMotion, Metacafe, Instagram, Tumblr and several others on your Android device or PC for free.
Today, YouTube is one of the most popular video sharing site in the world used by millions of users for entertainment. With almost 30 million videos uploaded every minute, YouTube has been a great source of information and entertainment for users all across the world. However, a user cannot download and save the videos to view offline. It is due to some terms and conditions and privacy policy issues.
To make this impossible task possible, VidMate came into existence. It was developed by UCWeb, a significant part of Alibaba Group. You can download the application for free in its apk format and use it to view videos offline.
All About How to Download and Install VidMate Application for Android
Features of VidMate v4.2104 (2019)
1. Supports higher resolution videos
VidMate lets you save the videos offline in high resolution. You can choose from different resolution while downloading a video. In an Android device, you can watch the online videos in up to 720p resolution without consuming your Internet data. This is to say, VidMate allows you to play videos in HD quality in the application. There are so many benefits and positive factors of VidMate apk which might surprise you.
2. Downloads videos in lightning speed
When you use Vidmate.apk for downloading videos from Internet sources, it gets downloaded in a few seconds. Yes, it is that fast! Be it from DailyMotion, YouTube or Vimeo, the download speed is much faster than other application. It is because of its advanced technology that boosts the download capacity. Another reason for faster download with VidMate is its user-friendly interface. It lets you navigate the application pages faster.
3. Allows watching Live TV in HD quality
With VidMate android application, you will not miss your favorite TV shows. Not just this, it allows you to watch the TV shows in HD quality. You can watch live TV with more than 200 channels of music, movies, entertainment, news, fashion, sports and many others. It is one of its kind feature that is impossible to find in any other applications for free. The programs are loaded faster even with a low-speed internet connection. Moreover, VidMate.apk allows you to download multiple media files simultaneously. It also has a 'watch-it-later' feature that allows you to access the videos later anywhere anytime. You can save your favorite shows with certain passcodes. If you wish to download only a music file, it can be saved in MP3 format.
4. In-built audio and video player
With VidMate, you need not download any additional applications to play the media file. It is a great application for fulfilling your entertainment needs.
| | |
| --- | --- |
| VidMate v4.2104 | |
| App Name | VidMate HD Video Downloader |
| Version | v4.2104 |
| Last Updated | 22 August, 2019 |
| Apk Size | 13.31 MB |
| Number of Downloads | over 500 million |
| Apk Developer | Nemo Studio |
| Installation Requirements | Android 4.0+ |
VidMate old version download
VidMate apk download install: steps
Follow these steps to install VidMate app on your Android device:
Step 1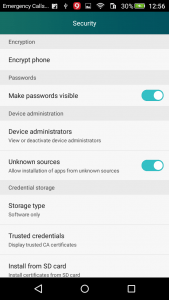 Turn on "Unknown Sources" from the Android security settings. Go to Settings – Security – Device Administration – Unknown Sources.
Step 2
Download VidMate.apk application.
Step 3
Your device will show a caution dialog box by default. Click on OK to continue.
Note: This warning from Android security is a default message and does not indicate that the app is unsafe for your device. It is just because you download the app from outside Google Play Store.
Step 4
Start the installation process by clicking on 'Install' on the confirmation page.
Step 5
Click 'Open' after installation of the application.
Step 6
Enjoy using VidMate application for android.
FAQs while VidMate app download
Is VidMate safe for android device?
Yes, VidMate is safe for most devices that include android. It is one of the safest applications and all the talks online about it being a virus or malware are myths. It is an excellent app to download videos faster on your android device.
Why can't I install Vidmate app?
VidMate is a third party app which cannot be downloaded from Google Play Store. It can only be downloaded in apk version. For android security reasons, you might see a blocked message while trying to installing the app. To continue successfully, you need to allow app installation by turning on the "Unknown Sources" in your device settings. And again, it is completely safe.
Is VidMate a legal android application?
Yes, VidMate is a 100% legal application. However, the websites you access through the app might be illegal. Make sure your kids do not misuse the app's features of all-in-one entertainment by watching adult videos.