In the world of hip-hop, few artists have captured the attention and controversy, like Tekashi69, also known as 6ix9ine.
The rainbow-haired rapper burst onto the scene in the late 2010s with his unique style, controversial public persona, extensive tattoos, and publicized celebrity feuds.
While his music has drawn polarizing opinions, there is no denying that 6ix9ine's rise to fame has been accompanied by his massive net worth of $10 million.
In this article, we'll explore the journey of 6ix9ine's professional life from obscurity to stardom and how he accumulated wealth despite numerous legal issues and setbacks.
Who is 6ix9ine?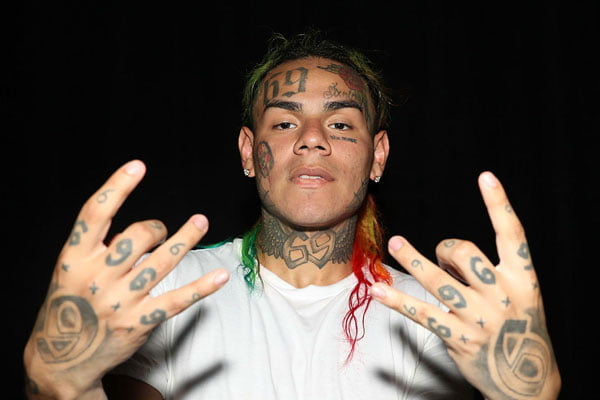 | | |
| --- | --- |
| Full Name | Daniel Hernandez |
| Professional Name | 6ix9ine, Tekashi69, Tekashi 6ix9ine, Wallah Dan |
| Date of Birth | 08-May-96 |
| Birthplace | Bushwick, New York, United States |
| Age | 27 years |
| Nationality | American |
| Ethnicity | White |
| Gender | Male |
| Sexuality | Straight |
| Religion | Christian |
| Zodiac Sign | Taurus |
| Marital Status | Unmarried |
| Height | 5 Feet 5 inches |
| Weight | 63 Kg |
| Profession | Rapper, Songwriter |
| Net Worth | $10 million |
Born on 8 May 1996, Daniel Hernandez, professionally known as 6ix9ine and Tekashi69, is an American rapper and songwriter. He gained significant attention and success in the music industry, particularly in the late 2010s.
Hernandez is known for his distinctive looks, including numerous face tattoos and rainbow-colored hair. He became famous for his aggressive rap style and often controversial behavior both on and off stage.
Hernandez was involved in several legal issues and arrests, which garnered media attention and further added to his notoriety. In November 2018, he was arrested on federal racketeering and firearms charges and faced the possibility of a lengthy prison sentence.
In an effort to reduce his potential sentence, he cooperated with federal authorities by providing information on his former associates in the Nine Trey Gansta Bloods gang, which he was affiliated with.
Hernandez's legal situation and controversies significantly impacted his career, but he continued to release music after his release from prison in April 2020. He faced both supporters and critics throughout his career due to his persona and actions.
What is 6ix9ine's Net Worth?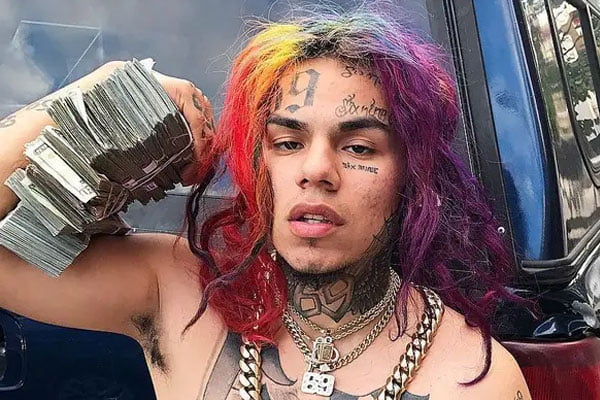 As of 2023, Tekashi69 has a net worth of around $10 million. His rapping career has contributed a lot to his net worth. In terms of his art and his personal life, he is a controversial rapper.
So, his net worth will keep changing due to his ongoing legal matters. But don't worry; we'll keep updating you with the latest information.
His Net Worth Trend from 2019 to 2023
| | |
| --- | --- |
| Years | Net Worth |
| 2019 | $5 million |
| 2020 | $7 million |
| 2021 | $8 million |
| 2022 | $10 million |
| 2023 | $10 million |
Career
Early Career
Hernandez had a tumultuous upbringing in a neighborhood known for its rough and challenging environment. Despite facing significant hardships, he developed a passion for music when he was just 16.
He began recording tracks in his teens and adopted the moniker 6ix9ine, combining the 69 tattooed on his body with "Tekashi," a reference to a character from the Japanese anime "Naruto."
In late 2017, Hernandez rose to fame with the release of his debut single, Gummo. The song quickly gained attention due to its aggressive rap style, catchy look, and accompanying viral music video.
In February 2018, his second mixtape, Day69, was released. The mixtape reached number 4 on the Billboard chart with 20,000 pure sales. Two songs from the mixtape Rondo and Billy both debuted on the Billboard, peaking at 73 and 50.
Hernandez released a remix of Gotti for an artist, Packman, titled Got it, Got it in April 2018. After some time, the song's video was released, featuring Hernandez donating bundles of $100 bills to poor citizens in the Dominican Republic.
Controversial Comeback
In May 2018, Hernandez stirred up controversy when he was involved in a feud with fellow New York rapper Casanova. The controversy led to Hernandez losing a headphone deal worth $5 million and being banned from the Barclays Center.
As a result, he stopped releasing music for several months. Facing serious repercussions, Hernandez made a controversial decision to cooperate with authorities and testify against former members of the Nine Trey Gangsters.
This move earned him significant criticism from both the hip-hop community and the public, who viewed his cooperation as a betrayal of street ethics. In late 2018, while in jail, Hernandez surprised the world with a strategic comeback.
He secured a deal with an LA-based music company, Create Music Group. Hernandez released his debut studio album that became his highest charting album despite negative critical reception.
Return to Music
In April 2020, 6ix9ine was released from prison early due to the COVID-19 pandemic. He wasted no time capitalizing on his freedom and resumed his music career.
Hernandez signed a two-album contract worth over $10 million with his label 10K Projects. Despite mixed reviews from critics, his singles continued to perform well on streaming platforms, attracting a considerable fan base.
In June 2020, Hernandez released his first number-one single, "Trollz." The song breaks the record for the largest position drop from number one in the chart's history.
Awards and Achievements
Speaking of awards, the rapper is yet to grab a majority award in the industry. But he has earned a lot of attention and popularity, whether it is because of his extraordinary talent or his legal issues.
Investments and Assets
6ix9ine has amassed a significant amount of wealth from his successful music career.
He invested his amass wealth in his exotic car collection, including a Lamborghini Aventador worth $600,000, a Rolls Royce worth $330,000, a 2013 Bentley Continental GTC worth $200,000, a McLaren 570s worth $200,000 and a McLaren 720s worth $350,000.
In addition to his extravagant car collection, Hernandez also invested in real estate.
Philanthropic Side
Below is a list of some of 6ix9ine's philanthropic works.
In September 2017, Hernandez donated money towards snacks and field trips for students at a school in Bushwick.
While filming the music video for his song "Gotti" in the Dominican Republic, Hernandez made time to ingratiate himself with the local people by greeting fans and donating $100 bills to children and the elders.
View this post on Instagram
He donated meals to the homeless people in Chicago.
Hernandez donated all the sales made from his Nicki Minaj-assisted single "Fefe" to various youth programs in New York.
In August 2018, Hernandez first visited his mother's house in Mexico, where he also stopped by his mother's school and handed out money to children.
View this post on Instagram
He even helped a 6-year-old brain cancer patient by spending time with him and donating money to his family to help pay their rent for a year.
View this post on Instagram
Frequently Asked Questions
1. How does 6ix9ine make so much Money?
He made so much worth by signing multi-million dollar record and concert deals.
2. How Old is 6ix9ine?
Born on 8 May 1996, He is 27 years old as of 2023.
3. How much is 6ix9ine's Net Worth?
As of 2023, Tekashi69's net worth is estimated to be around $10 million.
Wrapping Up
6ix9ine's journey from an obscure neighborhood in Bushwick to becoming a prominent figure in the hip-hop industry has been nothing short of remarkable.
Despite facing numerous controversies, he managed to build a substantial net worth through his multi-million dollar record and concert deals.