In online content creation, few personalities have captivated audiences as enigmatically as Corpse Husband. He has achieved tremendous popularity through his distinctive deep voice, haunting narrations, and mesmerizing storytelling. 
However, his face is one aspect of his persona that has remained shrouded in mystery. Corpse's fans eagerly await a face reveal, hoping to glimpse the man behind the voice. 
Below, we'll delve deep into Corpse Husband's face reveal journey. Will it happen, and When will it happen? 
Who is Corpse Husband?
Before exploring the journey of Corpse's face reveal, let us briefly introduce this internet sensation. 
Born on 8 August 1997 in San Diego, California, Corpse is an online pseudonym of an American Youtuber and musician. He is best known for his faceless work on Youtube. Corpse is also known for his horror story narration and Among Us content, an online multiplayer game developed by Innersloth. 
In 2015, he first gained recognition through his Youtube videos, in which he did a horror narration with his deep, low-pitched voice. 
Rather than using visuals to do horror narrations, Corpse primarily uses animated avatars or still images, adding to the allure of his mysterious persona. 
Has Corpse Husband Revealed His Face?
Yes, Corpse has revealed his real face in the past. But it was debatable whether that was his real face or not. Many of his fans feel that was not his real face. 
During one of his 2021 Tik Tok video titled haha, Corpse added an extra shot at the end of the video, showing a supposed image of the creator. In the video, Corpse can be seen covering his face with his hands. 
However, there was no confirmation whether the image was real. A lot of assumptions were made that the picture is highly edited. The partial face reveal created a lot of anticipation in front of his fans. 
The image received hilarious reactions, such as excuse me, jaw dropped, and gasps. Such a massive reaction from the audience to anything, even approaching a face reveal, revealed that Corpse could drum up hype within his fan following. 
Corpse Husband's Face Leaked on Twitter
Babe wake up. Corpse husband face reveal just dropped pic.twitter.com/2p28uGGKSf

— Nog (@Reptile_Penguin) September 22, 2021
In September 2021, a picture went viral on Twitter that claimed to be Corpse's real photo. A user named Nog posted the image. According to Nog, the image was from his younger times.
However, it was a part of one of the largest Corpse Husband's face leaks. But there was no confirmation that it was a real photo or not. In March 2023, the image again began circulating on Twitter. 
This time, it sparks a debate about fans' perception of content creators and parasocial relationships. But still, Corpse's real identity remains a mystery. 
Will Corpse Husband Ever Do a Face Reveal in the Future?
Unlike another live streamer and American Youtuber, Dream, Corpse has never confirmed that he will reveal his real face in front of his fans. Actually, Dream hyped his face reveal event that, resulted in mass excitement among his fans. 
But after the face reveals, Dream also has to face a lot of criticism that results in deleting his face-revealing video and doing the hidden face videos again. So there's a chance that if Corpse makes up his mind to show his real face in the future, he can avoid it. 
What Happened to Corpse Husband and Where is He Now?
One of the main reasons for his sudden disappearance might be his leaked face on Twitter. As we have told you before, a Twitter user named Nog posted a picture that claimed to be Corpse's real image. 
However, it has not been confirmed that the person in the photo was actually Corpse. Since the photo circulated on Twitter, Corpse may have disappeared and stepped back from creating content. 
Another reason for his absence was believed to be that he is actually suffering from chronic illness issues, including GERD, fibromyalgia, and thoracic outlet syndrome. In 2020, he gave his health update on Twitter after ending live streaming. 
Sorry if I worried anyone earlier

For those of you who don't know, I'm chronically ill, & have been for years.
I'm in pain every single day.
It's something that I constantly try to overcome, but sometimes it just gets too overwhelming

im all good tho, thank u for everything 🖤

— Corpse Husband (@Corpse_Husband) December 22, 2020
He said he wasn't feeling well and hadn't been for some time. The corpse was last seen in February 2023. He posted a 15-second long Tik Tok video, where he was promoting his hoodie designed in partnership with Gloomy Bear.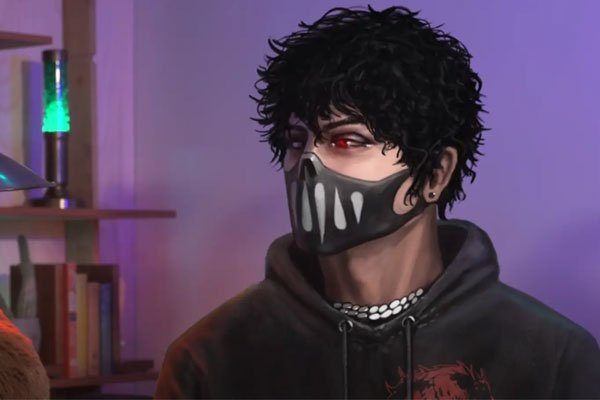 He didn't talk much about his absence. But fans seemed happy as Corpse showed up after a long time. Recently on 29 June, he also promoted his new song, Code Mistake: Corpse × Bring Me the Horizon. 
❗️CORPSE x Bring Me The Horizon❗️

🦇✨OUT NOW✨🦇https://t.co/n551OYf3vh@bmthofficial pic.twitter.com/TLgyEv8ucQ

— Corpse Husband (@Corpse_Husband) June 30, 2023
Despite his disappearance, fans are still there for him, posting daily comments on his social media pages. 
Frequently Asked Questions
1. Has Corpse Husband Revealed His Real Name?
Just like his face, Corpse hasn't revealed his real name yet. 
2. What is the Corpse Husband's Age?
As of 2023, he is 25 years old. 
3. What Disease Does Corpse Have?
He suffers from chronic illnesses, including GERD, fibromyalgia, and thoracic outlet syndrome.
Wrapping Up
From a mysterious voice to an internet sensation, Corpse's journey highlights the power of anonymity and exceptional talent. His choice to keep his identity hidden is his personal choice. 
But his fans are still waiting for him to do a face reveal. Whether he ever reveals his face or not, his voice and connection with his fans will remain the true essence of his allure.