Kevin Costner, an acclaimed American actor, director, producer, and musician, has been a prominent figure in the entertainment industry. 
Known for his iconic roles in Dances With Wolves, Field of Dreams, and The Bodyguard, Costner has captured the hearts of millions of audiences worldwide. 
While he has achieved remarkable success in his professional life, his personal life has also been a subject of interest among his fans. 
One of the most intriguing aspects of Costner's life is his relationship with his wife, Christine Baumgartner, who has been a constant pillar of support throughout his career. Below, we'll be exploring Kevin Costner's relationships.
Who is Kevin Costner's Wife?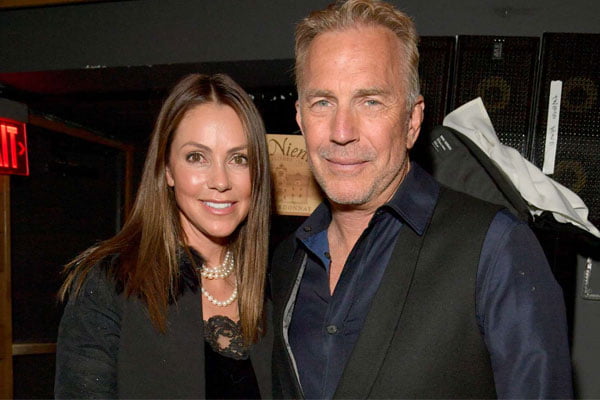 Costner's wife is none other than a designer, Christine Baumgartner. Born on 4 March 1974, Christine is an accomplished handbag designer and model. 
She designs handbags under the Cat Bag Couture, available in boutiques near the couples' 160-acre ranch in Aspen, Colorado. Christine studied business administration and marketing at California State University, Fullerton. 
Before marrying Costner, she worked as a handbag designer and retailer. 
How and When Kevin Costner and Christine Baumgartner First Met Each Other?
Their love story began in an unexpected manner. The couple first met each other on the golf course where Costner was rehearsing for his 1996 romantic comedy Tin Cup. At that time, Costner was still married to his first wife, Cindy Silva. 
In 1994, Costner and Silva divorced, and he began dating Christine. They used to hang out at a restaurant. There only the pair exchanged numbers. 
When did they get Married?
After dating for several years, Costner and Christine tied the knot on 25 September 2004, in a private ceremony on Costner's 160-acre ranch, The Dunbar, in Aspen. It was a storybook affair for Christine. 
The pair exchanged vows in the presence of their close friends and family, including Costner's children from his previous marriage. Costner and Christine share three children, Cayden Wyatt, Hayes Logan, and Grace Avery. 
What about Kevin Costner's Past Relationships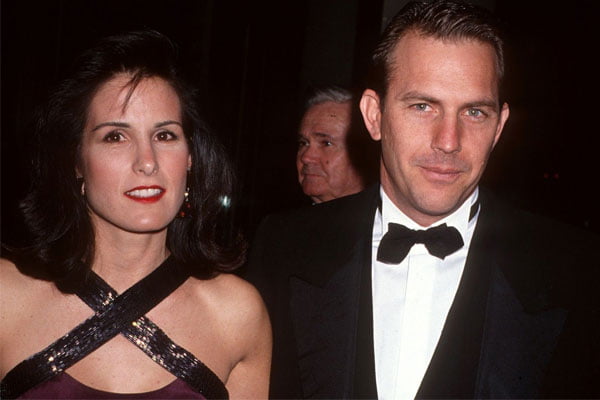 Before getting into a relationship with Christine, Costner had been married twice. He was previously in a relationship with an occasional actress, Cindy Silva, from 1978 to 1994. 
With Silva, he shares three children, Annie, Lily, and Joe Costner. After divorcing Silva, Costner was also dating Bridget Rooney and also had a child with her. 
Is it True that Christine Baumgartner filed for Divorce from Kevin Costner?
Yes, Costner's 18-year marriage to Christine is going to be over. On 1 May 2003, Christine filed for divorce from him. Despite a 20 years age difference between them, Christine wanted to begin a family with Costner. 
But he told her that you need to know that having children is the end of the road of a relationship between you and me. Many speculated that it could be the reason Christine filed for divorce. 
A day later, after the divorce was filed, Costner requested joint custody of the pair's children. On the other hand, Christine also requested $248,000 monthly in child support for all children. 
However, she alleged that the figure is less than the amount needed to give an accustomed lifestyle to children. She also requested Costner to pay 100% of private-school tuition, extracurricular activities, and healthcare expenses. 
But according to the court documents, $123,620 is the appropriate figure for monthly child support, depending on state guidelines. In a legal document, the judge also ordered Christine to move out of the former couple's $145 million compound by the end of the month. 
Cosnter's attorneys pointed out that if Christine tried challenging the agreement, she might need to forfeit her $1.5 million divorce settlement. 
Costner Lowered Christine's Credit Card Limit to $30K Monthly After Divorce
On 30 June, the court filed documents that the Yellowstone actor alleged that his ex-wife has failed to maintain the status quo and their three children following the couple's recent split after 18 years of marriage. 
Costner has accused Christine that he would continue to maintain the status quo by paying 100% of their three children's expenses. He had paid all the children's expenses. 
Costner is left with no choice but to reduce the credit card limit of Christine to $30K monthly. 
The reason behind doing so is that she changed the status quo by charging more than $105,000 to divorce lawyers and forensic accountants without any advance notice to Costner. 
Frequently Asked Questions
1. How many Wives Kevin Costner had?
Costner was married twice, Cindy Silva and Christine Baumgartner. 
2. Who is Kevin Costner's Current Wife?
His current wife is Christine Baumgartner. But on 1 May 2003, she filed for divorce from him. 
3. Is There Any Age Gap Between Costner and Christine?
There is a 20-year age difference between Costner and Christine. 
Wrapping Up
Despite the ongoing divorce settlement between Costner and Christine, he created a harmonious balance between his personal and professional life. Hope you receive enough information regarding Kevin Costner's wife. 
If you want to read more entertaining articles like this, keep following our website!