Muni Long is a 34 years old American-based singer and songwriter. She is happily married to Masimba Chibanda. In this article, we'll show you the complete information regarding Muni and her husband's relationship.
When and how did they meet each other? Keep your eyes on the article until the end, so you don't miss any information.
Who is Muni Long?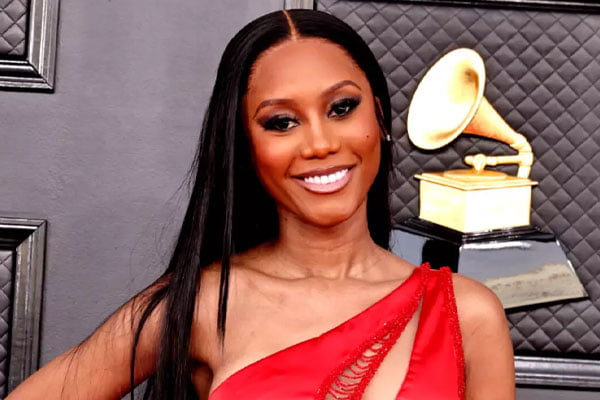 Priscilla Renea Hamilton, famously known as Muni Long, is a well-known American singer and songwriter with several records. In 2009, her first solo debut album, Jukebox, was released through Capitol Records under the name Priscilla Renea.
After releasing her first solo album, she started writing songs for other famous singers such as Rihanna, Fifth Harmony, Kelly Clarkson, Ariana Grande, and others. She has co-written different favourite songs, California King Bed, Worth It, Love So Soft, Imagine, and many more.
Muni became an individual artist, and everyone started recognising her by her professional reputation. She witnessed significant commercial success after she changed her name to Muni Long. In 2018, she decided to return to her singing career with her second studio album, Coloured, which was released through Thirty Tigers and Sony Music.
One of her singles, "Hrs and Hrs", became a game changer and reached the top 20 on Billboard. It was a collaboration with Def Jam Recordings, which became a record breaking deal in her singing career.
She has received four Grammy Award nominations throughout her career, including Best New Artist, Best R&B Performance and R&B Song. In 2021, she also got a nomination for Album of the Year.
Muni began singing when she was two years old. But she claimed that she was uncomfortable singing in front of other people. When Muni got older, she became comfortable and began her Youtube channel. On her Youtube channel, she began posting videos of her upcoming songs. It helped to boost her confidence and gained a massive audience retention.
View this post on Instagram
Who is Muni Long's Husband
Masimba Chibanda is a long-term husband of Muni Long and a private person when it comes to social life. He hardly posts anything about himself, and most of his information is anonymous. Therefore, there is nothing about him, like where he was born, his parents and his early life.
The only thing we know about him is that he is completely opposite to Muni. We can clearly see that she is highly active on social media. And on the other hand, her husband is barely active on social media. As an individual, Masimba is very private.
There's not much information available on the internet other than he is the husband of Muni Long.
When and how did they meet each other
The couple first met around 2014, but it is still suspicious how they met and where they met because they never talked about their personal life openly. It was said that Muni and her husband first met in a Taco restaurant. But we can't say how much truth is there in this.
Masimba Chibanda has never shared anything about his personal life, and even Muni has never mentioned him in her Instagram stories. The couple has been married for almost eight years. Other than that, there's not much we can share about Muni's Husband.
What about her Personal Life
Muni lived in Florida at the beginning of her career, but after establishing her career, she decided to move to Atlanta. She has faced many things in her career, like battle management, being dropped from the label as a creative catalyst, resigning then again declining, and many more. In the past, she was diagnosed with lupus.
After some time, she decided to run her music label, "Supergiant Records", named after the biggest star of the galaxy. At one point in her career, she released a song, "Family Tree", based on when she was kicked out of the family as a teenager. Life was hard for her after this incident.
Frequently Asked Questions
1. Is Muni Long Married?
Yes, she is a married woman.
2. What is Muni Long Married to?
She is happily married to Masimba Chibanda.
3. How old is she?
As she was born on 14 September 1988, Muni is 34 years old.
Muni Long Hrs & Hrs Lyrics
Uh, oh, ooh, mmm (yeah)
I don't usually do this but, um (hello, oh my God) Can I sing to you? Yeah, yeah
Yours, mine, ours
I could do this for hours Sit and talk to you for hours I wanna give you your flowers And some champagne showers Order shrimp and lobster towers But it's me that gets devoured
Ooh, when you do what you do, I'm empowered
You give me a superpower Together, the world could be ours You sit me up on the counter Instantly, it's thunder showers Stormin' for a couple hours When we finished, take a shower
I could do this for hours
And hours and hours I could do this for hours And hours and hours I could do this for hours And hours and hours I could do this for hours And hours, hours
Usually don't like nobody
And when I say nobody, I mean nobody All these niggas full of shit You're just a homie once they hit Felt like givin' up on love These niggas almost made me quit
Then I met you
When I met you, I knew this was it I've never been in love like this A love like ours I pray for it on my knees Every night for some hours And hours and hours And hours and hours and hours
I could do this for hours
And hours and hours I could do this for hours And hours and hours What's yours is mine and ours And yours, mine and ours
I could sit and talk to you for hours
Sit and look at you for hours Makin' love to you for hours Layin' on your chest for hours Tellin' you jokes for hours Holdin' you close for hours And hours and hours
Oh, oh, oh (yeah heh)
Oh, oh, oh (yeah heh) Whoa, oh, oh (yeah heh) Oh, oh Hours and hours (yeah, heh) Hours and hours (yeah heh, yeah heh) Oh, oh Hours and hours Hours and hours Whoa, oh, hmm Yeah
Conclusion
Hopefully, the information in the article is enough for you to know about Muni Long's husband. They haven't revealed much about their relationship, so everything we got on the internet is available in our article.
Keep following our website Inspire Buddy to read more exciting articles like this!