Richard Hammond, a prominent British television presenter, is widely recognized for his work on various popular television shows, including Top Gear and The Grand Tour. Beyond his television appearances, Hammond has ventured into writing and radio hosting.
With a career spanning decades, Richard Hammond's net worth of $45 million has been a subject of curiosity among fans. The article below delves into Hammond's career, ventures, and investments contributing to his net worth.
Who is Richard Hammond?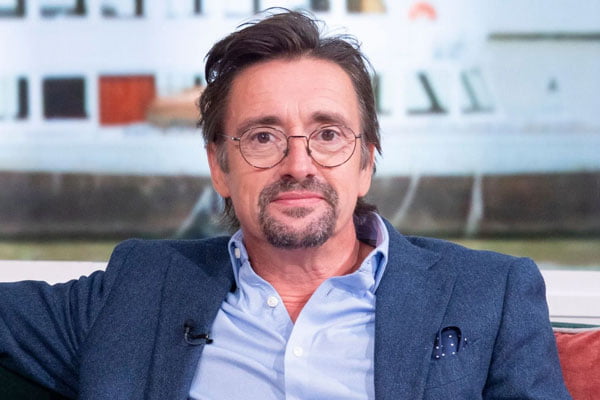 | | |
| --- | --- |
| Full Name | Richard Mark Hammond |
| Professional Name | Richard Hammond |
| Date of Birth | 19-Dec-69 |
| Birthplace | Solihull, United Kingdom |
| Age | 53 years |
| Nationality | English |
| Ethnicity | British |
| Gender | Male |
| Sexuality | Straight |
| Religion | Christian |
| Zodiac Sign | Sagittarius |
| Marital Status | Married |
| Spouse | Mindy Hammond (2002-present) |
| Height | 5 Feet 5 inches |
| Weight | 66 Kg |
| Profession | Journalist, Television Presenter, Writer |
| Net Worth | $45 million |
Born on 19 December 1969, Hammond is a British journalist, television presenter, and writer. He is best known for his work in motoring and entertainment.
Hammond gained widespread recognition as one of the hosts of the popular BBC television show Top Gear. In 2002, he joined the show and became known for his enthusiastic and comedic presentation.
Alongside his co-hosts Jeremy Clarkson and James May, he was integral to the show's success, combining automotive reviews with humor, challenges, and daring stunts.
In addition to Top Gear, Hammond has been involved in various other television projects, including hosting his own shows, such as Richard Hammond's Crash Course, Richard Hammond's Big, and Richard Hammond's Engineering Connections.
What is Richard Hammond's Net Worth?
As of 2023, Hammond's net worth is estimated to be around $45 million. A significant portion of his net worth comes from his television presenter and hosting career. His long-running stint on Top Gear and current role on The Grand Tour also contributed to his fortune.
Hammond also earned through various endorsements and brand partnerships. As an automotive enthusiast, Hammond has worked with numerous companies, including Budget Rent-a-Car, Shell, and Fiat.
Career
Passion for Automobiles and Broadcasting from a Young Age
Hammond developed a passion for automobiles and broadcasting from a young age. He started his career in local radio, eventually moving to national stations.
After completing school, he began working for several BBC radio stations, including Radio York, Radio Cleveland, Radio Columbia, and Radio Newcastle. However, it was his foray into television that catapulted him to fame.
The "Top Gear" Era
Hammond's breakthrough came with his role as one of the presenters on the globally popular BBC show Top Gear. The show revolves around cars and motoring, providing Hammond with a platform to showcase his wit, humor, and expertise in the automotive world.
In 2002, he became the presenter of the show. However, Hammond continued the show for several years. But in March 2015, it came to an end. Later, in June 2015, Hammond returned to the show for 75 minutes.
During the show, Hammond earned the nickname The Hamster for his small stature compared to his co-presenters, Jeremy Clarkson and James May. While filming the show, he gets involved in a high-speed dragster crash.
He was driving a Vampire dragster during the crash. As a result of the collision, the car flipped into the grass, the front right tire failed, and Hammond was found unconscious. After the crash, Hammond first appeared in a BBC chat show, Friday Night with Jonathan Ross.
Hammond revealed that he was in a severe coma for two weeks and suffered from post-traumatic amnesia after the crash. During his time in Top Gear, Hammond's earnings significantly contributed to his growing net worth.
He has been part of the show until 2015, and his engaging presenting style earned him a handsome salary.
His Other Ventures
After leaving Top Gear, Hammond, along with May and Clarkson, came up with their own show named The Grand Tour. The show featured on Amazon Prime continued to showcase their love for cars and adventure, further boosting Hammond's earnings.
In addition to his television work, Hammond joined several shows as a presenter. In 2003, he became a presenter for an entertainment show, "Brainiac: Science Abuse." Later, he signed a deal with BBC and left the show after the fourth series.
Throughout his television career, Hammond has been involved in various other shows, such as Crufts the Dog Show, British Parking Awards, and The Gunpowder Plot: Exploding The Legend.
Awards and Achievements
Hammond's career primarily revolves as a television presenter. He did some acting roles but hasn't received any major awards. For his contribution to Top Gear, Hammond received several nominations for BAFTA Awards.
At the Croatian Auto Show, he was also honored with the Rimac Concept One Award for Outstanding Personality.
View this post on Instagram
His Investments
Richard Hammond invested his massive earnings in a mock castle in Herefordshire, where he lives. He also owns an apartment in London and a Villa in Saint-Topez. In October 2012, Hammond invested around 2 million pounds in Bollitree Castle.
Apart from real estate, Hammond's investments also include a luxury car collection, Porsche 911, Pagani Zonda, Porsche 928, 1969 Dodge Charger R/T, 1967 Ford Mustang GT, and a BMW 850Ci.
In March 2012, Hammond passed the B206 LST helicopter license and bought a Robinson R44 Raven II helicopter.
Very much enjoying a holiday romance with a borrowed bike and failing to carry off the open face helmet look. pic.twitter.com/Xlev9tuaCk

— Richard Hammond (@RichardHammond) July 22, 2022
Richard Hammond's Philanthropic Side
Hammond has been recognized for his philanthropic work. In 2009, the University of Huddersfield honored him with an Honorary Doctorate of Engineering for his contributions to the automotive industry and his support for engineering education.
For supporting young people from disadvantaged backgrounds, Hammond was named an Ambassador for a UK-based trust, Prince's Trust. Hammond also worked with the UK-based charity Help for Heroes to support injured veterans.
Hammond was honored with the Oustanding Contribution Awards at the Sun Military Awards for his fundraising efforts and support for his charity.
Frequently Asked Questions
1. How Much is Richard Hammond's Net Worth?
Hammond has a net worth of around $45 million.
2. How Old is Richard Hammond?
Born on 19 December 1969, Hammond is 53 years old.
3. Who is Richard Hammond's Wife?
He is married to Mindy Hammond.
4. How Many Children Does Richard Hammond Have?
Hammond has two children with his wife, Mindy, named Willow Hammond and Isabella Hammond.
Wrapping Up
Richard Hammond's journey from a local radio show host to a Top Gear presenter is evidence of his versatile talent. His ability to connect with audiences has undoubtedly contributed to his successful career and impressive net worth.