All Annabelle Movies
Directed by
John R. Leonetti
Written by
Gary Dauberman
Produced by
Peter Safran
James Wan
Cinematography
James Kniest
Edited by
Tom Elkins
Music by
Joseph Bishara
Production companies
New Line Cinema
RatPac-Dune Entertainment
Atomic Monster Productions
The Safran Company
Distributed by
Warner Bros. Pictures
Release date
September 29, 2014 (TCL Chinese Theatre)
October 3, 2014 (United States)
Country
United States
Language
English
Annabelle is one of the most popular American supernatural horror films. It was directed by John R. Leonetti, written by Gary Doberman, and then produced by Peter Safran and James Wan. In addition, it is a sequel to 2013's: The Conjuring and the second installment of The Conjuring Universe franchise. However, the film was inspired by a doll named Annabelle, told by Ed and Lorraine Warren. In addition, the film stars Annabelle Wallis, Ward Horton, and Alfre Woodard. Hence, let's talk about how to watch the Annabelle movies in order.
Important Information about Annabelle Movies
A spin-off was focusing on the origins of the Annabel doll in The Conjuring. Soon after the release of The Conjuring, mainly due to its worldwide box office success and positive reception towards the doll's portrayal. Then, primary photography began in January 2014 in Los Angeles.
Finally, Annabelle premiered on 29 September 2014 at the TCL Chinese Theater in Los Angeles. It was then theatrically released in the United States on October 3, 2014, by Warner Bros. Pictures and New Line Cinema. However, Annabelle received generally negative reviews from critics, many of whom felt inferior to its predecessor.
View this post on Instagram
How Many Annabelle Movies Are There?
Ancient folktales involving demonic dolls have often piqued everyone's curiosity from time to time. Moreover, Annabelle is not an exception.
Name your fear triggers, and they're sure somewhere in the good ol' Annabelle movies in order, the most valuable angle of The Conjuring franchise.
However, there have been three feature films showcasing the doll until now. And below is the complete order in which you should watch them:
1. Release Order
Annabelle is a virtual Ann doll sheltered in the occult gallery of Ed and Lorraine Warren. In addition, the 2014 movie explained a fictionalized description of how a monster came to be attached to the doll.
| | |
| --- | --- |
| Annabelle | 2014 |
| Annabelle: Creation | 2017 |
| Annabelle Comes Home | 2019 |
So, after the great success of Annabelle, another two movies enrolled the storyline later on, but one was a prequel and another a sequel. However, the perfect timeline order by the three movies is given below:
2. Annabelle Movies in Chronological Order
Furthermore, one of the most exhilarating connective twists you'll ever notice is in the prequel Annabelle: Creation. From 1955, however, it fulfills the origin story of the ragged doll, which prepares little girls to check under their bed and explore some prohibited things.
| | |
| --- | --- |
| Annabelle: Creation | 2017 |
| Annabelle | 2014 |
| Annabelle Comes Home | 2019 |
However, get ready to pick a sneak peek inside Warrens' Museum with the third installment Annabelle Comes Home. Though it does arrive back with a been-there-screamed-at-that kind of vibe, it's in a pleasing continuity with other Conjuring movies.
3. Ultimate Watch Order
Now, how will I allow you off the hook with just seeing the Annabelle movies in order when you have not seen the movie saga which inaugurated the doll in the first place? Moreover, that's right, and I am discussing The Conjuring movies.
| | |
| --- | --- |
| Annabelle: Creation | 2017 |
| Annabelle | 2014 |
| The Conjuring | 2013 |
| Annabelle Comes Home | 2019 |
| The Conjuring 2 | 2016 |
| The Conjuring: The Devil Made Me Do It | 2021 |
However, the original arrival of Annabelle was in 2013's The Conjuring, which exposed how the doll arrived in Warren's possession. In addition, these are the top canon movies of The Conjuring Verse. So why not see it at the same time you're watching the Annabelle movies? Thereupon, their storylines do tie up together.
Annabelle Movies: Plot
Santa Monica, California, John Form, a doctor, comes with his pregnant wife Mia with a unique vintage porcelain doll as a blessing for their first kid to be spotted in an exhibition of dolls in their daughter's conservatory.
That evening, the two are disturbed by the sound of their next-door neighbor, Higgins, killed during a home raid. While Mia informs the police, she and John are attacked by Higgins' killers. Then, the police arrive and shoot one of the killers, a man, who died, while the female killer commits suicide by strangling herself inside the nursery while holding the doll. News reports have identified the attackers as Higgins' daughter, Annabelle, and her unidentified boyfriend, both cult members.
A series of magical activities occurred around the form's residence. Later, Mia gives birth to a healthy baby girl. She and John name their child Leah. The family rents an apartment in Pasadena. After John finds dolls from Annabelle's previous attack in one of their boxes, another set of paranormal events haunt Mia and her daughter. The next night Mia is infuriated by an evil presence at her apartment. She is then believed to be the ghost of Annabelle after she confronts a dark and terrifying figure in the basement of the building, who begins to follow her before fleeing.
More about the story of Annabelle Movies
Mia calls Detective Clarkin back to gather information about Unable and the farmers and learns. In addition, the cult intends to summon supernatural beings. Mia understands that the cult practices devil worship and then calls a demon who followed the family after they moved into their apartment to claim them.
The demon attacks Mia and Leah, who reveal themselves as molesting the doll upon returning home. Mia and John reach their parish priest, Father Perez. Then, he informs them that demons sometimes attach themselves to inanimate objects to accomplish their goals and that a human soul has a purpose. Without any hope of getting the devil out of the doll, Father Perez decides to enlist the help of The Warrens to investigate. But before he can enter the church, a nightmare opposing Annabelle's spirit attacks him and seizes the doll.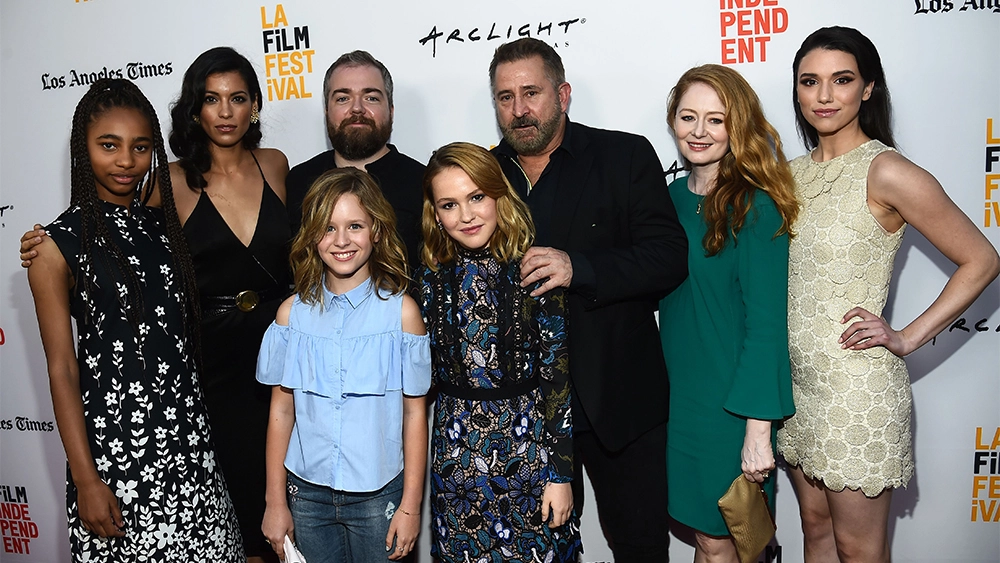 The next day, the priest was in the hospital, and John checked on him. Then Father Perez warns the latter that after realizing his powerful presence, the demon's true intention is to claim Mia's soul. Then, That night, as Evelyn visits Mia, the devil uses Father Perez's physical form to break into the apartment and kidnap Leah for her mother's soul. To release her daughter, Mia strives to jump out of the window with the doll, but John arrives with Evelyn just in time to stop her.
Movie Cast
Annabelle Wallis as Mia Form
Ward Horton as John Form
Alfre Woodard as Evelyn
Tony Amend as Father Perez
Christopher Shaw as Fuller
Joseph Bishara as Demon
Sasha Sheldon as Nurse
Carey O'Malley as Sharon Higgins
Brian Howe as Petty Higgins
Eric Ladin as Detective Clarkin
Ivry Brogger Dr. burgher
Rick Pappa as Rick
Amy Tipton as Camilla
Morgana May as Debbie
Camden Singer as Clerk
Robin Pearson as Mother
Tree O'Toole as Keira Danielle
Annabelle "Janis" Higgins
Geoff Weiner as Neighbor
Shiloh Nelson as Nancy
Gabriel Bateman as Robert
Conclusion
The main series of Annabelle movies in order follows their attempts to assist people who find themselves possessed by demonic spirits. At the same time, the films focus on the origins of some of the entities the Warrens have met.