Are you looking for ways to encourage your child's imagination and creativity?
Do you want to find a fun and engaging activity to keep your kids entertained for hours? Look no further than a fort building kit for kids.
In this blog post, we will dive into the benefits of a fort building kit for kids, how to find the perfect one for your children, what to expect from a quality fort kit, creative ways to use a fort kit, and tips for setting up and maintaining your kid's fort. Let's get started.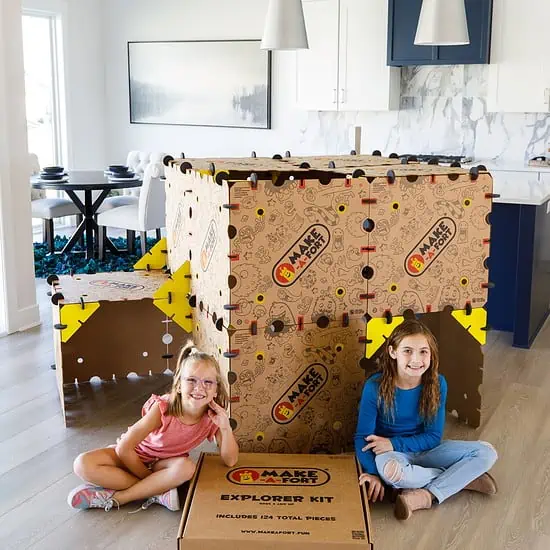 The Benefits of Building Forts with Kits for Kids:
Building forts is not only fun, but it also has numerous benefits for children. Fort building allows kids to use their imagination and creativity, problem-solve, and work with others to build a structure.
It can also help with gross motor skills as kids crawl and climb into their forts. Forts can be a safe and cozy place for kids to retreat and be used as an imaginative play and storytelling tool.
How to Find the Perfect Kit For Your Kid
When searching for a fort building kit for your child, consider their age, interests, and skill level. Some kits may be designed for younger children, while others may challenge older kids and require more advanced building skills.
You may also want to look for kits with different materials, such as fabric, cardboard, or sticks, to add variety to the building process. Reviews from other parents can also help you find a quality kit that fits your child's needs.
What You Can Expect From a Quality Fort Kit
A quality fort building kit should include all the necessary materials for building a sturdy and safe structure.
Some kits may include fabric or cardboard panels, connectors or clips to secure panels together, and fun accessories. The materials should be durable and easy to clean, and the kit should come with clear instructions or design ideas.
Creative Ways to Use a Fort Kit
A fort kit can be used creatively beyond just building a fort in your child's room. Set up a stronghold in the backyard for a fun outdoor activity, or incorporate the kit into a themed party.
You can also use the materials to create other imaginative structures like towers, boats, or castles. Fort building can be a fun family activity and a great way to bond and make memories with your child.
Tips for Setting Up and Maintaining Your Kid's Fort
When setting up your child's fort, choose a safe location away from hazards like stairs or windows. Encourage your child to help with the building and decorating to promote creativity and ownership.
Once the fort is built, consider setting ground rules such as no jumping or roughhousing inside. For maintenance, regularly check the structure for any loose pieces or tears in the fabric and keep the area clean and clutter-free.
An Inside Look Into Fort Building Kits For Kids – In Conclusion
A fort building kit for kids is a fantastic way to encourage creativity and imaginative play in your child. With the fitting kit, your child can spend hours building and decorating their own cozy space, all while developing skills like problem-solving and teamwork.
Whether building a fort indoors or outdoors, a fort building kit for kids can provide endless hours of entertainment for kids of all ages. So why wait? Grab a fort kit today and start building.