Once you get engaged, the next thing you want to do is to make your loved one yours under the umbrella of beautiful vows. Your wedding is going to be the biggest party you will ever plan to throw. To make your special day fun and memorable, you will have to start planning early.
Planning your wedding can be daunting at first, but inspiration and focusing on one task at one time will make the process easy for you. Whether you are planning a small and simple event or a lavish one, the below tips will help you to plan both types of events successfully.
Here is a list of steps you can follow without getting overwhelmed with the process.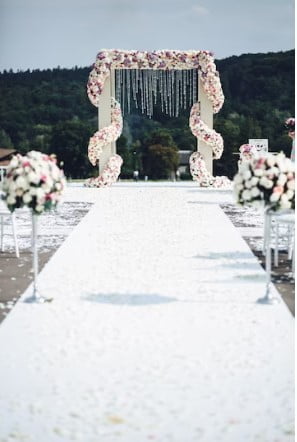 Set Your Wedding Budget
The first and foremost thing you should look at when planning for your wedding is creating a budget. It will allow you to plan your event according to the limit you have. This may not be the most fun part about your wedding, but taking this into consideration will make it easy for you to avoid later stress of getting into any debt.
When preparing yourself for marriage, the last thing you will want is to fall for the dress, venue, and vendor and find them out of your budget. So, ensure that you have the right budget for the wedding.
Since it is going to be a special day, you can be flexible a little on the necessary things like venue, etc.
Get Inspired
Another fun part about planning a good wedding is getting inspiration for the day. What do you want for your day? Are you going for a super classic and formal wedding day, or do you want to make it more relaxed and rustic to enjoy with your family?
By thinking about what suits you and meets your needs, you can start the gathering process of inspiration by pursuing Instagram, Pinterest, and other social media applications to see the latest trends of décor and venue on your feed.
Select Your Wedding Party & Wedding Party Attire
Your wedding party is a select group of close friends and family members that are chosen by the happy couple to be a part of the wedding festivities. Traditionally, the wedding party is made up of bridesmaids, groomsmen, a maid of honor, and the best man. The parents of the bride and groom are often included as well, though their roles are a little different.
The role of the wedding party is to support the bride and groom throughout the process of planning and throwing a wedding. The bridesmaids and maid of honor are usually heavily involved in helping the bride plan for the wedding, as well as offering moral support and, of course, looking beautiful alongside the bride in their bridesmaid dresses.
If you don't know where to start looking for bridesmaids' dresses, Bella Bridesmaids has one of the widest selections available. You may find that you don't need to search far and wide to find that perfect dress after all!
The wedding party should consist of people that you know and trust to be there to support you on your journey to the altar. The gesture will also help to form stronger bonds with the friends and family that you include in this tradition.
Choose your Venue
Pretty much the day you propose to your partner, the next thing you can imagine is a wedding in a hall or somewhere far from the main location. There are many couples out there who choose a destination wedding or location where the groom or bride's parents got married.
If you choose a location to get married somewhere far, you should consider other factors as well, like the season, available dates, transportation, and guest accommodation. For this, you should make your budget flexible.
Make all the Bookings
Once the venue is decided, and both of you have agreed to marry there, now you will need to make some bookings for the day. Obviously, whether it is a central park or a Church, you should ensure that it will be free for your wedding day. Once the date is decided, making early bookings will save you from any stress.
If you are from south Florida and want to travel by road to make your trip fun for the wedding, you should book a private transportation service in south Florida. This way, you can save money from air travel and get the most comfortable ride to your destination in a budget-friendly way.