If you're struggling to figure out why your CCTV camera isn't working, try a few tried-and-true troubleshooting methods. First, check the device's manual or quick guide. You may also need to call or email the manufacturer for tech support.
Power
A CCTV security camera system that works properly is critical to a business. It can save you money and reduce liability. Experts diagnose the problems with a security camera system by looking at its power, wires and network connection. Some security cameras use one wire for power and internet connectivity, while others need a separate wire. A power supply that is not working correctly can cause flickering or horizontal lines on CCTV footage. It should also have adequate power filtering to prevent interference from electrical networks. It may be time for a new unit if a power supply box or the individual power adapter does not supply the correct voltage and amperage.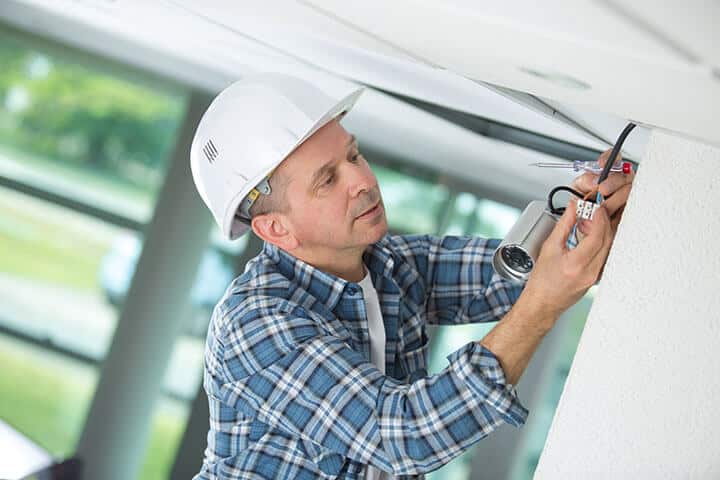 Video
Experts diagnose security camera systems based on the video. They analyze images to find out what's going on in the scene and identify possible culprits. A video system can vary in display resolution, aspect ratio, refresh rate, color capabilities and other qualities. They can also be analog or digital. When a video signal appears choppy or has visible tearing, this usually means that the network is not providing enough bandwidth to carry it. This is common for IP cameras and can affect the quality of real-time footage. Experts often troubleshoot coaxial-based CCTV systems by isolating problematic BNC cameras and testing them with a short known-good cable and power adapter before attempting to fix the problem. This process is called bench testing. It may seem repetitive, but it can be critical in determining whether the issue is related to cable runs or power delivery.
Interference
While diagnosing security camera systems, experts will often find interference on the monitor. It can result from several factors, including inadequate power supply or physical barriers. Experts diagnose this by counting the number of bars or lines on the screen to indicate the frequency of the interference. This helps them track the source of the problem so that they can fix it quickly and effectively. Another common cause of interference is running camera cables over a high power source. This is a common issue in commercial buildings where many power lines are shut on and off. This can also be caused by incorrect grounding, especially if the CCTV camera is placed over a metal body. Use ground loop isolators to solve this issue.
Network
A network is a set of computers, servers or other devices connected to allow data sharing and communication. A network can transmit music or movies, connect phones and even help control the temperature in your home.
Most networks have a topology, which describes how devices are connected. Some systems use client-server networks, where a central computer provides resources to other participants in the network. CCTV systems usually use IP networking, which means they can transfer video and other data over the internet. Experts can perform various tests on the device and its connectivity to diagnose a network problem. For example, if a camera's footage looks choppy, it's most likely due to an issue with the router or other network components. Contact your manufacturer's support line if you cannot resolve the issue. They should be able to assist you in diagnosing the problem and exchanging your unit if necessary.