Why move disk image file to a new hard drive?
Computer hard disk is used for storing digital data. Usually, we talking about the hard disk is a local hard disk, there is also external hard disk on the contrary. If we distinguish the disk type, there are HDD and SDD, etc. What's more, we often partition a disk to several drive/partition. Some are used for saving files, games, videos and so on, and C drive is used for system files. In a word, the disk is an important part of a computer and important for you. But, hard disk errors such as hard drive error code 0142, hard disk error 301 often happens with unexpected reasons, so how to protect the data on the disk?
Make a backup is an easy solution, traditionally, we backup data on this disk to another one, the method also called hard drive image transfer. If you have created a disk image when the drive is in a normal state in advance, you could restore the disk image to another drive to restart your system at any time, if the disk is data drive, you can retrieve all data as well. Moreover, there are some advanced operations, for example, try disk clone or make a bootable media. Bootable media will help you recover from disaster quickly. OK, now we know there are many solutions, to make the image move process easily and smoothly, you need a practical hard drive image tool. learn how to fix windows error as well as quick books error fixing tutorial from our other archives.
Simplest hard drive image software you can try
Here, we recommended is a Windows software called AOMEI Backupper, which free edition AOMEI Backupper Standard could complete the task too. To move disk image to a new hard disk, you can use its function of disk backup & disk restore or disk clone. Backup the source disk and generate an image file first, when you want to transfer, restore it to the destination. Disk Clone directly copies the whole disk data to another one. Each method has its advantages, it depends on your needs.
As users know, SSD performs better than HDD, we often install system partition on it. If you plan to transfer disk to SSD, AOMEI Backupper' built-in SSD alignment feature will help you make the new drive 4K aligned automatically, thus, it improves the speed of the SDD. AOMEI Backupper is a Windows software, supported operating system from the old XP to the latest Windows 10, its Server Edition and higher editions support popular Windows Server operating system too. For personal use, try the free backup software AOMEI Backupper Standard first. The following content will show you how to realize hard drive image transfer with AOMEI Backupper.
How to transfer the disk image to SSD easily?
Most users transfer the disk image to a new place is SDD, so we take SSD as an example here. At first, download AOMEI Backupper Standard from its official website, the latest version is 5.2, install and run. By the way, since the 5.0 version, AOMEI Backupper changed a new brand interface, more fashion and cool. If you are the first time to get in touch with AOMEI Backupper, spend less time to familiar with the software because it is really very easy to handle. Other preparations are connecting the target SSD to your computer and make sure it is detected by the system and AOMEI Backupper.
Backup the original disk. Switch to Backup tab, select Disk Backup, then add disk and decide the path, other settings are schedule, scheme and additional settings, such as comments, email notification, compression level, etc. Few steps to commit disk backup.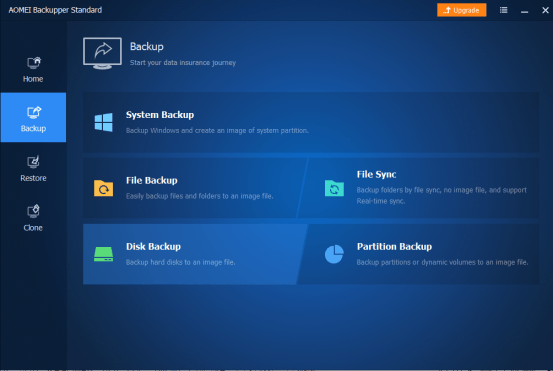 When you want to do restore, you can find the image file from Home interface or under Restore tab. And select "Restore the entire disk", click on the disk and click "Next" button. In next step, select the SSD as the restoration destination and click "Next"again. Check "SSD Alignment"or "Universal Restore" to before clicking "Start Restore". AOMEI Backupper supports dissimilar hardware restore, if you want transfer the disk image to a new computer, this function ensures the system is bootable after restoring.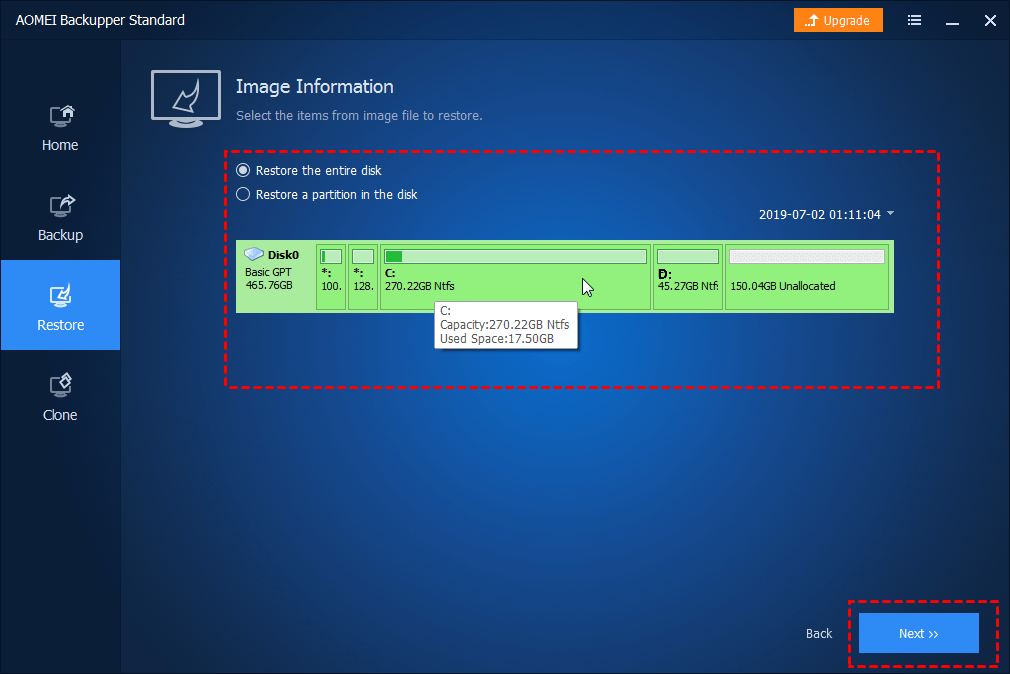 Another method is toclone the current drive to SSD, please switch to Clone tab and select Disk Clone. Choose the current disk as the source disk and the SSD as the destination disk successively. Clone has SSD Alignment setting too, check it.Sector by sector clone means it will clone every sector on the source drive no matter it is used or not, which will take more time and occupy more storage space.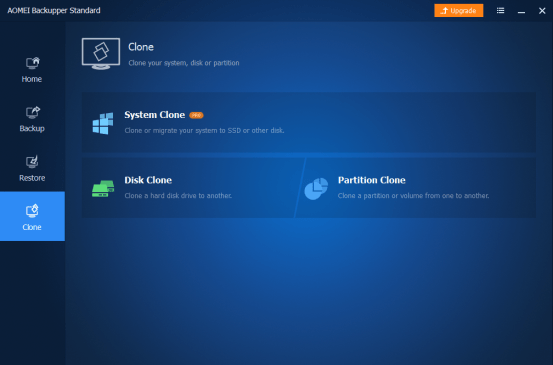 Summary
AOMEI Backupper, from its name, it is easy to know it's a Windows backup software, but it can do many things. Windows has inbuilt backup program, unluckily, it has many limits. AOMEI Backupper makes up disadvantages of it and develops many new functions. In this tutorial, we know AOMEI Backupper has backup and clone function, in fact, it integrates a series of useful utilities: PXE boot tool, image deploy, centralized management console, etc, you can find them from Home. At last, tell you a good news, AOMEI Backupper supports multiple languages: English, German, French, Chinese, Japanese, Italian, Dutch, Spanish, Portuguese and Turkish. People all over the world can enjoy it easily.