Genting Highlands, often referred to as the "City of Entertainment," is a captivating hill station nestled amidst the lush Titiwangsa Mountains of Malaysia. Located just an hour's drive from Kuala Lumpur, this highland paradise offers a perfect escape from the hustle and bustle of the city. While there are various ways to reach this enchanting destination, taking a bus to Genting is a convenient and scenic option. In this guide, we'll take you on a virtual journey to explore the beauty of Genting Highlands and share tips on how to make the most of your visit.
Genting Highlands, often simply called Genting, is a renowned hill resort known for its cool climate, luxurious resorts, and a plethora of entertainment options. Nestled at an elevation of 1,800 meters above sea level, Genting Highlands provides a refreshing escape from Malaysia's tropical warmth. Genting is famous for its vibrant casinos, thrilling theme parks, and breathtaking views of the surrounding mountains. To fully appreciate the beauty of Genting Highlands, consider taking a bus to Genting.
Choosing the Scenic Route: This scenic journey offers picturesque views of winding roads, dense forests, and misty peaks. The bus ride begins from the base of the hill, and as you ascend, you'll be treated to stunning vistas that gradually unfold before your eyes.
Enchanting Outdoor Attractions
Nature's Playground: Genting Highlands boasts several outdoor attractions that allow you to immerse yourself in nature's beauty. Explore the Genting Strawberry Leisure Farms, where you can pick fresh strawberries and enjoy scenic views of the strawberry fields. Additionally, take a leisurely stroll through the Chin Swee Caves Temple, a serene place of worship surrounded by lush greenery.
Skyway Cable Car: A Breathtaking Ride
Aerial Adventure: The Genting Skyway cable car is an experience in itself. Step on board and relish a thrilling journey that unveils sweeping vistas of the mountains and valleys below, leaving you awe-inspired. The journey takes you to the peak of Genting Highlands, where even more adventures await.
World-Class Entertainment
Genting Highlands is renowned for its world-class entertainment options. Visit the First World Plaza, home to an indoor theme park, a Ripley's Believe It or Not museum, and a vibrant shopping complex. You can also test your luck at the casinos, where a variety of games and entertainment options await guests.
A Culinary Adventure
Feast for the Senses: Genting Highlands is a food lover's paradise. Sample a diverse range of cuisines, from Malaysian street food to international fine dining. Don't miss trying the renowned Awana Skyway's famous steamboat restaurant, where you can savor delicious hotpot dishes while enjoying panoramic views.
Accommodation: Luxury in the Clouds
Staying in Style: Whether you're seeking luxury or a cozy retreat, Genting Highlands offers a range of accommodation options. Choose from world-class hotels and resorts that pamper you with comfort and breathtaking vistas. Wake up to misty mornings and enjoy the tranquillity of being surrounded by nature.
Shopping and Souvenirs
Retail Therapy: Shopaholics will find plenty to indulge in at Genting Highlands. Explore the First World Plaza's extensive shopping options, including fashion boutiques, souvenir stores, and duty-free outlets. Don't forget to grab some one-of-a-kind souvenirs to help you cherish the memories of your trip.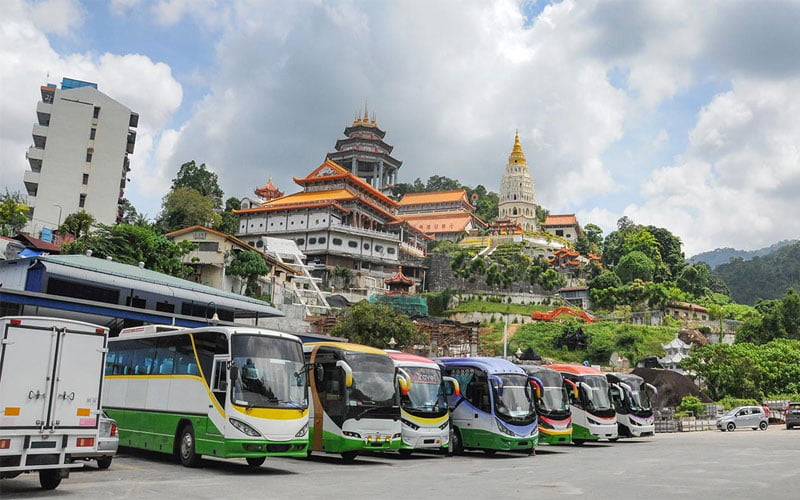 Planning Your Visit
As you plan your visit to Genting Highlands, consider taking a bus to Genting for a memorable and scenic journey. The beauty of Genting is not only in its luxurious resorts and thrilling attractions but also in its serene natural surroundings. Whether you're seeking outdoor adventures, world-class entertainment, or a culinary journey, Genting Highlands has something for everyone. So, pack your bags, book your bus ticket to Genting, and prepare to explore the enchanting beauty of this hill station nestled high above the clouds.
Wrapping It Up
Genting Highlands is a hill station gem in Malaysia, offering a unique blend of natural beauty and modern entertainment. Taking a bus to Genting allows you to savor the stunning landscapes and build anticipation as you ascend the hills. From outdoor adventures to world-class entertainment, Genting Highlands promises an unforgettable experience that will leave you with cherished memories of this highland paradise.