American YouTuber and Twitch streamer Kai Cenat specialize in making vlogs and prank videos. He was born on 16 December 2001. In addition to his streaming work, Kai is a well-known rapper who has worked with some of the top names in the business.
By 2023, Kai Cenat's net worth is anticipated to be $9 million. Check out more about his work and wealth in this article.
Who is Kai Cenat?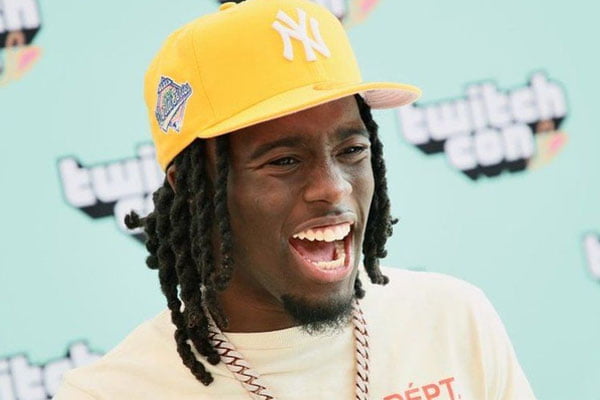 | | |
| --- | --- |
| Full Name | Kai Carlo Cenat |
| Professional Name | Kai Cenat |
| Date of Birth | 16-Dec-01 |
| Birthplace | New York, United States |
| Age | 21 years |
| Nationality | American |
| Ethnicity | NA |
| Gender | Male |
| Sexuality | Straight |
| Religion | Christian |
| Zodiac Sign | Sagittarius |
| Marital Status | Single |
| Height | 5 Feet 6 inches |
| Weight | 65 Kg |
| Profession | Live Streamer and Youtuber |
| Net Worth | $9 Million |
| Annual Income | $230K |
What is Kai Cenat's Net Worth?
Rapper, live streamer, and YouTuber Kai Cenat have a $9 million fortune. Kai is well known for his YouTube comedy videos and Twitch streams. He has a reputation for working with other live streamers like IShowSpeed, Adin Ross, and xQc, as well as for hosting famous guests like the rappers Lil Baby and 21 Savage.
After nearly a month of holding the record for Twitch subscribers, Kai revealed in 2023 that he had been kicked off the platform. Before being suspended, he reportedly earned $3 million a year on the network, excluding endorsements.
Offered a $40 Million Contract From Kick
The famous live streamer is also a member of the Youtube group AMP. They stirred up discussions with his verse at the beginning of their latest song, AMP FRESHMAN CYPHER 2023.
In the lyrics of the song, Kai cleverly hints at a subtle diss directed at Kick and possibly streamers on the platform, Adin Ross and Brice "BruceDropEMOff."
Kai also revealed that he has been offered a $40 million contract to join Kick. Since the launch of Kick in late 2022, Kai has always been in discussion.
Streamer Of The Year, WE DID IT 🏆🖤 pic.twitter.com/wpQHXvzzaQ

— AMP KAI (@KaiCenat) December 5, 2022
Career
Drop out to Follow his Love for Content Creation
Kai started uploading videos every other day after quitting college to follow his love for content creation. His career took off after joining AMP, a collective of like-minded content creators.
With Duke Dennis, Just Fanum, ImDavisss, Agent 00, and Chris Nextdoor, Kai was successful on YouTube. They participated in boot camps, gaming competitions, and food challenges. The channel began broadcasting in January 2020, and by July 2021, it had amassed one million members.
Kai, who is well-known for his work with AMP, has also established his brand on YouTube. Since its launch in 2012, his channel, which includes antics like "Fake Producer Prank On Famous Rappers!," has amassed over two million members.
Music Career
In 2022, Kai debuted as a musician by collaborating with rapper NLE Choppa on the song "Bust Down Rollie Avalanche." The following year, he and fellow streamer IShowSpeed released the single "Dogs."
Kai is also known for his appearance In various music videos by other artists, such as those for Adot's "Shoot," Polo G's "Distraction," and Lil Uzi Vert's "Just Want to Rock."
Awards and Achievements
Kai received the Streamy Award for Streamer of the Year in 2022 for a successful year. He had a month-long substation in February 2023 to get the year off to a great start.
By the end of the month, Kai had surpassed Ludwig's previous record of almost 305,000 members to become the most Twitch subscribers streamer ever.
View this post on Instagram
Investments and Assets
Kai's love for cars is so much that he owns four cars for himself and his parents. His first car was a Toyota Prius, which he bought with his Twitch income. Kai drove the car for some time, and then he upgraded it to a brand new Mercedes S Class.
He also gifted a Tesla Y Model car to his mother. Currently, Kai owns a Ford Mustang. Apart from his car collection, Kai also has a love for Nike Jordan and has over 10 pairs of them in his wardrobe.
In the past two years, he has spent over $80 thousand on shoes. Kai is also crazy about Kanye West's Yeezy brand and owns a pair of Yeezy Foamrunners and a Yeezy Boost.
It is being said he has spent over $50 thousand on hoodies and sweatshirts from popular brands, such as Armani and Burberry.
Frequently Asked Questions
1. What Accusations Were Made by Jovi Pena on Kai Cenat in 2023?
He was charged with failing to help TikToker Jovi Pena after she reportedly experienced a sexual assault at his New Year's Eve party in the early months of 2023. In response, Kai said he delayed acting because he attempted to contact the police and his legal representatives.
He further claimed that at the time of the alleged rape, he was not aware of it.
2. How much Revenue does Kai Cenat Generate from Twitch?
Kai's Twitch channel generates over $2 million in revenue yearly.
3. How much is Kai Cenat's Net Worth?
According to different sources, Kai has an estimated net worth of around $9 million.
Conclusion
Kai Cenat's journey to success has contributed to his net worth of $9 million. However, his continued success will likely impact his financial standing in the future.