Popular New York-based content producer Kai Cenat is presently trending on Twitch. Despite being a well-known relative novice to the site, Kai is one of the top broadcasters with only a year and a half of broadcasting experience.
In this article, we will discuss who Kai Cenat is talking about in his early life, career, and personal life. Other than that, we have also mentioned some frequently asked questions related to his life.
Who is Kai Cenat?
| | |
| --- | --- |
| Full Name | Kai Carlo Cenat |
| Professional Name | Kai Cenat |
| Date of Birth | 16-Dec-01 |
| Birthplace | New York, United States |
| Age | 21 years |
| Nationality | American |
| Ethnicity | NA |
| Gender | Male |
| Sexuality | Straight |
| Religion | Christian |
| Zodiac Sign | Sagittarius |
| Marital Status | Single |
| Profession | Live Streamer and Youtuber |
| Net Worth | $9 Million |
Kai Carlo Cenat is an American live streamer and YouTuber. He is well known for his comedic YouTube videos and live Twitch streams. Following a month-long substation, he broke fellow streamer Ludwig's previous record for the most subscribers on Twitch on 28 February 2023.
At both the 2023 Streamer Awards and the 12th Streamy Awards, he received the "Streamer of the Year" honor. On the list of the most popular Just Chatting streams, he is ranked number 3 by Twitch Metrics, while based on his most current data, Twitch Tracker places his channel at number 8 overall. Before entering the streaming industry, Kai was a well-known YouTuber known for his quick comic sketches.
His Early Life and Family
Father's Name
Mr. Cenat
Mother's Name
Mrs. Cenat
Siblings
Devonte (Older Brother)
Kaleel (Younger Brother)
Kaia (Twin Sister)
Wife
Unmarried
New York City welcomed Kai Cenat on 16 December 2001. His parents, a Haitian father and a Trinidadian mother, reared him in the borough of The Bronx. There is no information regarding the name of his parents.
The only thing we know is that his father is a businessman. Other than that, Kai has three siblings: a twin sister called Kaia, a younger brother named Kaleel, and an older brother named Devonte.
Educational Background
| | |
| --- | --- |
| School Name | Frederick Douglass Academy |
| University Name | Morrisville State College |
| Qualifications | NA |
Kai received his secondary schooling at Frederick Douglass Academy. After completing high school in 2019, he began studying business administration on 27 August at the State University of New York at Morrisville. He struggled to keep up with coursework and content development, and in 2020 he finally dropped out of college.
He had a love for sports and extracurricular activities since he was a little boy. His constant ambition to become a well-known celebrity motivated his early internet career.
Kai Cenat's Body Stats
| | |
| --- | --- |
| Height in m | 1.78 m |
| Height in cm | 168 cm |
| Height in inches | 5 Feet 6 Inches |
| Weight in Kg | 65 kg |
| Weight in pounds | 143 pounds |
| Hair Color | Black |
| Eye Color | Dark Brown |
Career
In February 2021, after leaving YouTube, he started live streaming. He produced largely interactive and reactionary material. Within a year of switching, Kai saw tremendous progress. He received nominations for the "Streamer of the Year" and "Breakout Streamer" categories at the 12th Streamy Awards due to his popularity. The former, he won twice in a row.
But this year, the astronomical boom experienced an exponential increase. He became the best because of his 30-day Subathon in February, which shattered several records. He surpassed Ludwig's (283,066) and Ninja's (269,154) Twitch records for "all-time high active subs."
Kai reached this milestone in March 2023 and is presently in first place with 306,621 subscribers. Furthermore, since he recently passed the five million follower threshold, this served as an extra boost to his number of followers. With 5.13 million followers as of this writing, he is ranked 37th all-time.
His extensive historical tour was chronicled in the "30 Days" documentary published on YouTube. In contrast to other broadcasters, Kai is quite unafraid to experiment with new ideas that change the streaming landscape.
Although Kai had a respectable following on YouTube, he was eager to explore other opportunities, which is how he became a Twitch broadcaster. Kai has always desired to work in comedy. He started his online business only to provide amusing sketches and jokes.
Kai aspired to be a rapper, and his internet presence made that dream come true. Kai has so far been in many music videos and created his works also.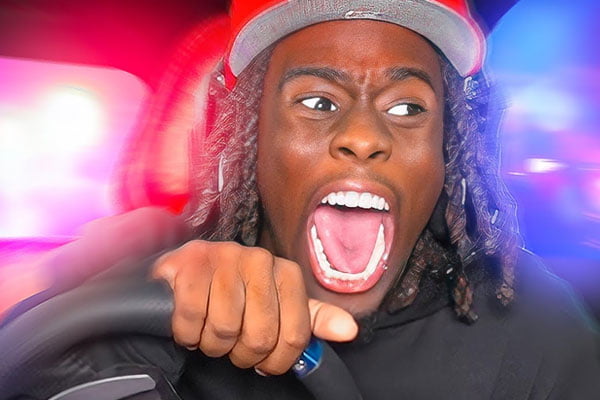 What is Kai Cenat's Net Worth
Kai posts his videos to both YouTube and Twitch. Even though this is his main source of revenue, the latter, even less so, makes a significant contribution to his profits. Although the streamer has never made them known in the open, we can always make an educated guess by examining all the online information.
Kai has a net worth that is assessed to be approximately $9 million based on the sources and some data that is online.
Social Media Accounts
Kai Cenat's Personal Life
Kai has three siblings: a twin sister, Kaia; a younger brother, Kaleel; and an older brother, Devonte. He studied minor subjects in school since his goal was to become a comedian. He struggled to keep up with his coursework due to his desire to pursue his dreams, though, and dropped out of college in 2020.
Kai is single based on the facts available, even though nothing is known about his love life. Although he has many male and female subordinates, he has not publicly acknowledged any romantic relationships.
View this post on Instagram
Controversies Kai Cenat Faced
On 5 January 2023, a TikToker named Jovi Pena accused Kai of downplaying and refusing to help her after she was brutally raped at a New Year's Eve Party. Pena said that Kai asked her to leave the party and sleep in an upstairs room as she was very drunk.
According to her, then a fellow-party goer, Djigui Seck, came to her room and brutally raped her to the point where she bleed while she was sleeping.
On 6 January, Kai reacted to the incident, and he said he didn't respond before because he went to contact the police and his lawyers. Kai said Seck was one of his good friends since high school, and he had no knowledge that Seck could do something like this.
Kai mentioned that he also had not been in contact with him since the incident.
Frequently Asked Questions
1. Where is Kai Cenat From?
Kai is from New York.
2. What is Kai Cenat's Height?
Kai is 5 feet 6 inches tall.
3. What is Kai Cenat's Age?
Born on 16 December 2001, Kai is 21 years old.
Conclusion
In a world where social media is reshaping industries, Kai Cenat's story exemplifies the potential of an individual to make a meaningful impact. Through his streaming career and social media impact, Kai has proven that we can achieve anything if we work hard.
Despite the controversies he faced throughout his journey, Kai will keep inspiring generations to come.