History and Popularity of Pink Sequin Dresses
Pink sequin dresses have been a popular fashion statement for decades. The use of sequins in clothing can be traced all the way back to ancient Egypt, where they were used to adorn royalty and high-ranking officials. During the 1920s, flapper style dresses with intricate beading and sequins became all the rage.
In more recent years, pink sequin dresses have become an iconic piece of fashion thanks to celebrities like Marilyn Monroe and Audrey Hepburn. Their stunning red carpet looks continue to inspire women today. The popularity of pink sequin dresses has only grown over time, with designers incorporating them into their collections each season. They are now available in a wide range of styles from bodycon mini-dresses to flowing maxi gowns.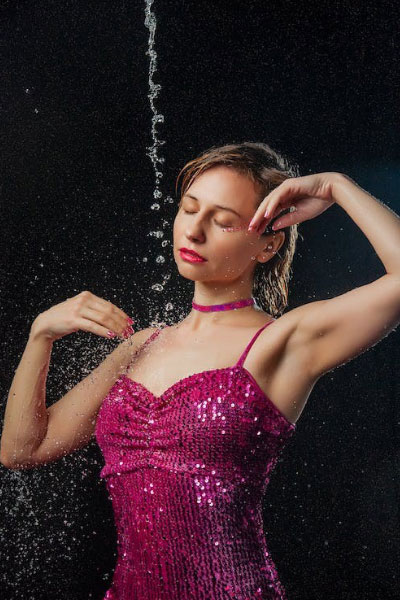 Different Styles of Pink Sequin Dresses
Pink sequin dresses come in various styles that cater to different occasions. From ball gowns to mini dresses, there is a perfect pink sequin dress for everyone. A long-sleeved, floor-length gown with a deep V-neckline can make you look like a Hollywood starlet on the red carpet.
A Pink Sequin Cocktail Dress: For those who prefer short dresses, a pink sequin cocktail dress can be an excellent choice for parties or night outs. Pair it with high heels and minimal accessories for an effortlessly chic look. A-line pink sequin dresses are also popular among bridesmaids as they flatter all body types. They have a fitted bodice and flowy skirt that creates an hourglass silhouette.
Mermaid-style Pink Sequin Dress: Another stunning option is the mermaid-style pink sequin dress that hugs your curves in all the right places before flaring out at the bottom into dramatic ruffles or fishtail hemlines.
Pink Sequined Jumpsuits: Don't forget about jumpsuits. Pink sequined jumpsuits are bold fashion choices but are guaranteed to turn heads at any event.
Whether you want to go full-on glam or opt for something subtle yet sparkly, there's always a style of pink sequined dress that will suit your taste and occasion perfectly.
How to Accessorize a Pink Sequin Dress
Pink sequin dresses are already attention-grabbing on their own, but accessorizing can take your look to the next level. When it comes to accessories for pink sequin dresses, less is usually more. Keep in mind that you don't want your outfit to look too busy or overwhelming.
Simple Jewelry: To start with, consider pairing a pink sequin dress with simple jewelry such as small stud earrings and delicate bracelets. This will give you a subtle sparkle without overpowering the dress itself.
Try Adding Statement Earrings Or A Chunky Necklace: If you're looking for something bolder, try adding statement earrings or a chunky necklace in gold or silver tones – this will give your outfit an added touch of glamor while keeping things balanced.
Nude Heels: When it comes to shoes, nude heels are always a safe bet as they elongate the legs and complement any color dress. However, if you're feeling daring, metallic strappy sandals or even bold-colored stilettos can work wonders.
Handbags: Don't forget about handbags. A simple clutch bag in black or metallic tones can add some sophistication while still letting your dress be the star of the show.
What Occasions to Wear a Pink Sequin Dress
Weddings: Pink sequin dresses are perfect for a range of occasions, from formal events to nights out on the town. For more upscale events like weddings or galas, pair your dress with elegant heels and minimal accessories to let the sparkle of the sequins stand out.
Prom Or A Night Out With Friends: For less formal occasions like prom or a night out with friends, opt for a shorter style pink sequin dress paired with chunky boots or strappy sandals depending on the season. You can also play around with different colors and textures when accessorizing – think black tights and leather jackets in colder months or bright pops of color in warmer weather.
Care Tips for Long Lasting Sparkle
Pink sequin dresses are an investment piece that can last a lifetime if taken care of properly. Here are some essential tips to keep your dress sparkling and shining for years to come.
Always Check The Label Before Washing: First, always check the label before washing or cleaning. Sequins may require hand-washing or dry-cleaning, so it's important to follow the instructions carefully.
Avoid Using Harsh Detergents: If you choose to wash your dress at home, turn it inside out and use a gentle cycle with cold water. Avoid using harsh detergents or bleach as they can damage the fabric and cause discoloration.
Lay The Dress Flat: When drying, lay the dress flat on a towel or hang it up using padded hangers. Never wring or twisting the fabric as this can cause stretching and distortion of shape.
Storage: Storage is also important in maintaining the longevity of your pink sequin dress. Store it in a cool, dry place away from direct sunlight and moisture. Consider investing in garment bags for added protection against dust and insects.
Avoid rubbing: Handle your casual dress with care when wearing it. Avoid rubbing against rough surfaces or coming into contact with sharp objects that may snag or tear the delicate fabric.
By following these simple care tips, you'll be able to enjoy your pink sequin dress for many special occasions to come.
Celebrity Inspiration: Best Red Carpet Looks with Pink Sequin Dresses
Pink sequin dresses have been a staple on the red carpet for years, with celebrities rocking them at various events. One of the most iconic looks was worn by Jennifer Lopez at the 2018 Met Gala. The dress featured a high slit and long train, both covered in pink sequins that sparkled under the lights.
Another stunning look was worn by Lady Gaga at the 2019 Golden Globes. Her dress was a strapless ball gown adorned with large pink sequins that cascaded down to create an ombre effect. The bold color choice and unique design made her stand out on the red carpet.
Conclusion
Pink sequin dresses have been a fashion staple for decades, and their popularity is only growing stronger. From classic Hollywood icons to modern-day celebrities, these shimmering gowns add timeless charm to any occasion.