Have you witnessed the electrifying clash between two baddest heavyweights on the planet from different genres? The reigning heavyweight boxing champion, Tyson Fury, prevailed in a 10-round split decision victory over the terrifying knockout artist from the mixed martial artist world, Francis Ngannou.
Ngannou almost knocked down Fury in the third round, but still, Fury got the win. The dream generated immense interest and excitement among sports fans, including renowned celebrities Cristiano Ronaldo, Salman Khan, and many more.
No! No! Our topic of discussion is not this boxing match. Today, we will examine Tyson Fury's net worth, his journey to the top, and the various income streams that have contributed to his fortune.
Who is Tyson Fury?
| | |
| --- | --- |
| Full Name | Tyson Luke Fury |
| Professional Name | Tyson Fury |
| Date of Birth | 12-Aug-88 |
| Age | 35 years |
| Birthplace | Wythenshawe, United Kingdom |
| Nationality | British, Irish |
| Ethnicity | Mixed |
| Gender | Male |
| Sexuality | Straight |
| Religion | Catholic |
| Zodiac Sign | Leo |
| Marital Status | Married |
| Spouse | Paris Fury (2008-present) |
| Height | 6 Feet 7 inches |
| Weight | 126 Kg |
| Profession | Professional Boxer |
| Net Worth | $65 million |
Tyson Fury, The Gypsy King, is a household name in professional boxing. He was born on 12 August 1988 in Wythenshawe, United Kingdom. Fury is known for his charismatic personality, quick wit, and flamboyant style both inside and outside the boxing ring.
Fury began his professional boxing career in 2008 and quickly rose. He gained widespread attention when he defeated Wladimir Klitschko, the long-reigning heavyweight champion, becoming the WBA, IBF, WBO, and IBO heavyweight champion.
Fury is known for his unorthodox fighting style, agility, and defensive skills despite his imposing size and height. He is also known for his entertaining and often controversial trash-talking and promotional antics in the lead-up to his fights, which have helped him become a prominent figure in the world of professional boxing.
How Much is Tyson Fury's Net Worth?
Fury's meteoric rise in the sport, charismatic personality, and unbeatable boxing skills have earned him many titles and accolades and helped him earn a significant amount of $65 million net worth.
His fortune comes from his ongoing boxing career, endorsement deals, and other financial endeavors. His net worth will likely increase with the successful title defenses and the potential for more high-profile flights.
His fights with Deontay Wilder and Anthony Joshua have generated substantial revenue, making him one of the highest-paid boxers in the world.
In addition to his fight earnings, Fury has secured lucrative endorsement deals. He has worked with companies like Top Rank, promoting his fights, and partnered with brands such as Everlast and WowHydrate. These endorsement deals have significantly boosted his income.
Career
Beginning of his Boxing Career
Fury comes from a family with a rich boxing history. Tyson Fury's dad, John Fury, was a professional boxer, and his family is of Irish Traveller heritage, known for their fighting spirit. Fury started boxing at a young age and quickly made a name for himself in the amateur boxing circuit.
Professional Boxing Career
Fury's boxing career turned professional in 2008 and took off with an impressive win over Bela Gyongyosi. He remained undefeated for many years, amassing an impressive record.
However, it was his victory over Wladimir Klitschko in 2015 that catapulted him into the global spotlight. Fury defeats Klitschko for the WBA, IBF, WBO, and IBO heavyweight titles, ending Klitschko's nine-year reign as the heavyweight champion.
The fight occurred on 28 November 2015 in Germany with a crowd of 55,000. Fury took the win unanimously, earning him $7 million.
Mental Issues
Fury's career has had its share of ups and downs, including battles with mental health issues and suspension from the sport. A rematch was decided between Tyson Fury and Wladimir Klitschko. Unfortunately, Fury gained 100 pounds and was declared medically unfit to fight.
He started taking drugs and slipped into depression. The rematch was also canceled after he failed a drug test for cocaine.
Return to the Ring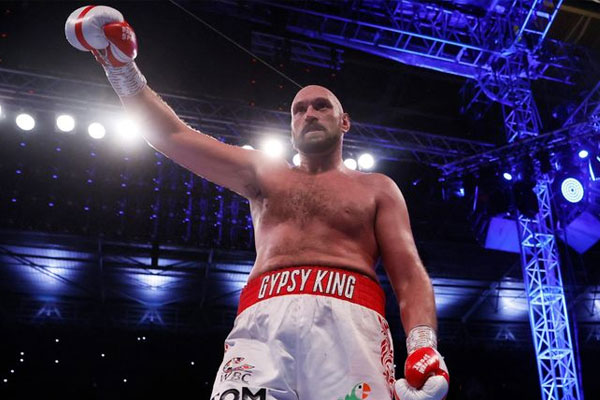 Fury's remarkable comeback in 2018 earned him a second shot at a world title when he fought against Deontay Wilder for the WBC heavyweight title. The fight ended in a thrilling draw, and in the rematch, Fury defeated Wilder in February 2020, solidifying his position as the heavyweight champion.
The fight with Wilder earned Fury a paycheck of $3 million, which he decided to donate to a charity.
Battle of the Baddest: Francis Ngannou vs Tyson Fury
On 28 October 2023 in Riyadh, Saudi Arabia, Fury fought with a terrifying knockout artist from the mixed martial arts world, Francis Ngannou. Fury took the win with a unanimous decision.
The fight generated immense interest and excitement among sports fans, combining two distinct fighting styles and personalities, creating a matchup that transcends the boundaries of their respective sports.
View this post on Instagram
His Investments
Fury has investments in real estate. He owns a house near Morecambe worth $2 million. It is a stone-clad mansion built on a plot of land previously occupied by a static caravan.
The mansion has a gold theme with gold curtains, gold radiators, gold furniture, and decorations. It also consists of a big gold-framed Versace mirror and numerous chandeliers.
🔥🔥🔥🥊🇸🇦❤️ pic.twitter.com/Sy0pxCzH6L

— TURKI ALALSHIKH (@Turki_alalshikh) October 27, 2023
Previously, he was living in a home worth $668,000 with his wife and children. Fury also has an extraordinary love for cars. He owns a bunch of luxury cars listed below;
Ferrari California – $180,000
Porsche Taycan – $205,000
Mercedes-Benz G-Class – $135,000
Rolls-Royce Phantom – $500,000
Ferrari 812 Superfast – $430,000
Rolls-Royce Cullinan – $360,000
Range Rover Defender – $120,000
Range Rover Sport – $110,000
Ferrari 488 Spider – $350,000
Tyson Fury's Philanthropic Side
Apart from his fighting skills, Fury is known for helping those who need help by giving his heart and wallet. As we have already mentioned, his complete earning from the Fury vs Wilder fight was donated to a charity.
The donation was for building houses for drug and alcohol abusers as he also went through this phase. He is also running his own charity foundation named Tyson Fury Foundation.
Frequently Asked Questions
1. What is Tyson Fury's Height?
Fury is 6 Feet 7 inches tall.
2. How Much is Tyson Fury's Weight?
Fury's weight is around 126 Kg.
4. Does Tyson Fury Have Children?
Fury is blessed with five kids, named Venezuela Fury, Prince Adonis Amaziah, Prince John James Fury, Prince Tyson Fury II, and Valenda Amber.
Wrapping Up
Tyson Fury's journey from a young, aspiring boxer to a global superstar and multi-millionaire is a remarkable success story. His net worth is a testament to his dedication, skill, and marketability in professional boxing.
With his charismatic personality and continued success in the sport, it's safe to say that "The Gypsy King" will continue to be a force both inside and outside the boxing ring, securing his place among the wealthiest and most iconic figures in the world of sports.