On 17 November 2023, you can witness the most awaited documentary, Maxine's Baby: The Tyler Perry Story, on Amazon Prime video.
The documentary will highlight the remarkable journey of Hollywood superstar Tyler Perry, from his early struggles to becoming a bona fide Hollywood icon. Tyler is a household name in the entertainment industry, known for his versatility as an actor, playwright, and filmmaker.
His incredible journey is an inspirational tale of determination and resilience that has earned him a place among the wealthiest individuals in Hollywood, with a net worth of $1 billion. In this article, we will delve into Tyler Perry's net worth and take a closer look at his career, which reflects his financial success.
Who is Tyler Perry?
| | |
| --- | --- |
| Full Name | Tyler Perry |
| Date of Birth | 13-Sep-69 |
| Age | 54 years |
| Birthplace | New Orleans, Louisiana, US |
| Nationality | African-American |
| Ethnicity | Black |
| Gender | Male |
| Sexuality | Straight |
| Religion | Christian |
| Zodiac Sign | Virgo |
| Marital Status | Unmarried |
| Girlfriend | Gelila Bekele |
| Height | 6 Feet 4 inches |
| Weight | 102 Kg |
| Profession | Actor, Filmmaker, Playwright |
| Net Worth | $1 Billion |
Born on 13 September 1969, Tyler is an American actor, filmmaker, and playwright known for his extraordinary work in the entertainment industry. Tyler initially gained recognition for his stage plays featuring the character Madea, an outspoken elderly African-American woman.
In addition to his successful career in theater, Tyler has significantly contributed to film and television. He created the popular television series "Tyler Perry's House of Payne" and "The Haves and the Have Nots."
Tyler is also known for his film projects, including the Madea film series, which includes movies like "Diary of a Mad Black Woman," and "Madea's Family Reunion."
Tyler is not only an actor and filmmaker but also a writer, director, and producer. He founded Tyler Perry Studios, one of the largest film studios in the United States, in Atlanta, Georgia.
His work often explores themes of family, faith, and forgiveness and has resonated with audiences, making him a prominent and influential figure in the entertainment industry.
How Much is Tyler Perry's Net Worth?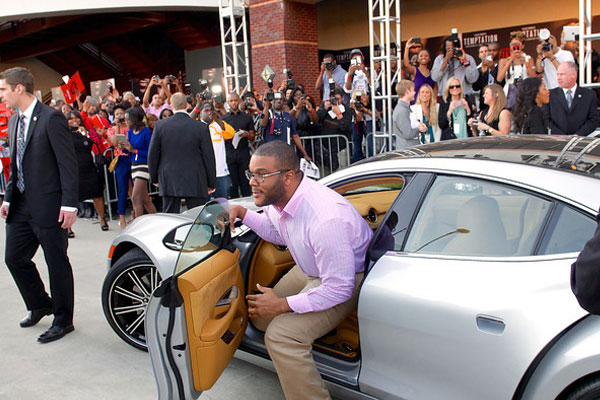 According to various genuine sources, Tyler's net worth is estimated to be around $1 billion. This remarkable wealth proves his hard work, entrepreneurial spirit, and unique ability to connect with audiences through his storytelling.
His fortune encompasses not only his film and television success but also his real estate investments and other business endeavors. His studio, Tyler Perry Studio, which is one of the largest film studios in the US, is a significant contributor to his wealth.
The studio has 12 soundstages and includes a replica of the White House. Tyler also has a vast 25 percent equity stake in BET+ after he signed a deal with ViacomCBS, earning him $150 million.
According to a 2020 report, his stake in BET+ alone is worth $60 million, and he has $300 million in cash and investments. Besides his entertainment career and studio, Tyler also owns a clothing line, Tyler Perry Collection.
His clothing line includes premium clothing and other items, such as shoes and accessories that made him a fortune of $20 million.
Tyler's Net Worth Growth Rate From 2018 to 2023
| | |
| --- | --- |
| Years | Net Worth |
| 2018 | $150 million |
| 2019 | $160 million |
| 2020 | $170 million |
| 2021 | $175 million |
| 2022 | $800 million |
| 2023 | $1 billion |
Career
Started his Career with Penning Heartfelt Letters to Himself
Tyler's childhood was marked by poverty, abuse, and homelessness. He dropped out of high school but later earned his GED. Despite his troubled upbringing, he found peace in writing and began penning heartfelt letters to himself as a form of therapy.
Tyler's career started to take shape when he wrote and produced his first play, "I Know I've Been Changed," in 1992. Although the play didn't receive widespread recognition initially, it was the foundation for his future success. Tyler continued to write, produce, touring countries and gradually generating a devoted fan base.
Creating the Most Iconic Character: Madea
In 2000, Tyler introduced a character who would become his most iconic creation – Madea. Tyler himself played this larger-than-life and sharp-tongued character. Madea quickly became a fan favorite, known for outrageous antics and comedic wisdom.
The character appeared in many of Tyler's plays, films, and television shows, establishing itself as a cultural phenomenon.
Film and Television Career
In 2005, Tyler released "Diary of a Mad Black Woman," his first feature film, in which he reprised his role as Madea. The film's success marked a turning point in his career.
He went on to create a string of successful films, such as "Madea's Family Reunion," "Why Did I Get Married?," and "For Colored Girls."
His dominance in film extended to television with the creation of popular shows like "House of Payne" in June 2006 and "Meet the Browns" in March 2008. These shows established Tyler as a force to be reckoned with in the entertainment industry.
Another voice and experience of a lifetime. pic.twitter.com/mAyWZcBoP5

— Tyler Perry (@tylerperry) September 20, 2023
Opened his Own Film Studio
In 2019, Tyler opened his own film studio, Tyler Perry Studios, in Atlanta, Georgia. This massive complex, built on a former Confederate Army base, spans over 300 acres and includes state-of-the-art production facilities.
It is worth $400 million, making it the first major film studio in the U.S. owned by an African-American, making Tyler a pioneer in the industry. The studio consists of 12 soundstages and sets. It is being said it is a replica of the White House. The studio allowed Tyler to host numerous blockbuster films and television productions, cementing his legacy.
View this post on Instagram
Awards and Achievements
Tyler has received numerous awards for his remarkable work in the entertainment industry.
Primetime Emmy Governors Award 2020
Quill Award for Humor 2006
The BET Honors Media Award 2009
BET Ultimate Icon 2019
NAACP Image Award for Outstanding Directing in a Motion Picture 2011
Jean Hersholt Humanitarian Award 2021
People's Choice Award for People's Champion 2020
His Investments
Tyler is interested a lot in real estate investment. He has properties in almost every corner of the world worth $450 million. He owns a 12,000 sq ft mansion worth $41 million in upscale California.
Back in 2016, Tyler used to own a property worth $17.5 million in Atlanta. In 2009, he owned a 14,000 sq ft property at White Bay Cay Island, Bahamas.
Apart from the properties, Tyler also owns a bunch of luxury cars, including Bugatti Veyron ($2 million), Lamborghini Urus ($620,000), Mercedes AMG GT ($1 million), Land Rover Discovery ($175,000), and Porsche Cayenne ($350,000).
Tyler Perry's Philanthropic Side
Tyler has been extremely generous with his fortune. He believes in giving back to society. This year, he helped older homeowners in Atlanta by paying their property taxes worth $2.75 million.
Tyler donated $430,000 for layways for customers in Walmart and $1 million to the NAACP. He even offered Prince Harry and Meghan Markle his Los Angeles home after they stepped away from their senior royal duties.
Frequently Asked Questions
1. Is Tyler Perry Gay?
No, Tyler himself told the world he is 100 percent straight.
2. Is Tyler Perry Married?
No, Tyler never got married.
3. How Old is Tyler Perry?
Born on 13 September 1969, Tyler is 54 years old.
Wrapping Up
Tyler Perry's journey from homelessness to becoming a billionaire is a testament to his talent and determination. His massive net worth reflects his impact on the entertainment industry and the lives of countless people who have found inspiration in his story.