George Alan O'Dowd, professionally known as Boy George, is an iconic British singer, songwriter, and DJ. He is known as the lead vocalist of the band Culture Club.
George is not only known for his distinctive and striking fashion sense but also for his tumultuous life journey. One of the most significant chapters in his life involves his time spent in prison for attacking Norwegian model Audun Carlsen.
In this article, let's delve into the details of Boy George's jail story and how it impacted his personal and professional life.
What Did Boy George Go to Prison For?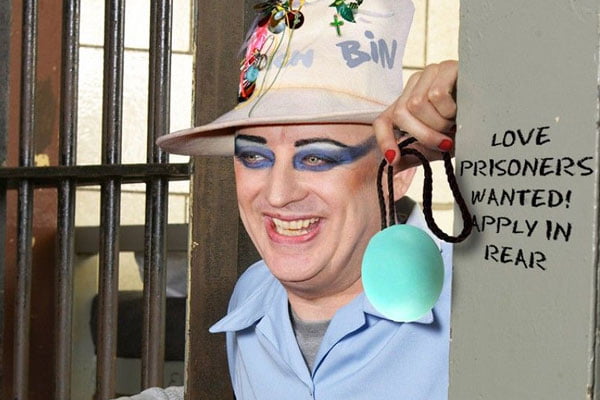 In 2009, George was imprisoned for about 15 months for attacking a Norwegian model and former male escort named Audun Carlsen. George was found guilty of handcuffing Carlsen to the wall and beating him with a metal chain.
At the time of the hearing, Carlsen said he was not able to get free after breaking the fixture. On the other hand, George defended his actions by saying that he was high on cocaine and had a psychotic episode at that time.
Later, George pleaded not guilty but was convicted and sentenced to 15 months in jail. But after four months, he was released for his good behavior.
Who is Audun Carlsen?
Carlsen was a model and a male escort at the time of the Boy George jail incident. In 2004, hailing from Kristiansand in southern Norway, he moved to London. After the infamous incident, Carlsen is working in hospitality.
After the incident, he has been undergoing therapy for a decade and suffers from PSTD. During an interview, Carlsen said every time he sees him (Boy George), he feels it all over again. He suffered a slipped disc twice or thrice a year and hasn't used dating sites since.
How Boy George and Audun Carlsen Know Each Other?
In January 2007, George and Carlsen first met each other after the singer contacted him through a dating site. George asked if he could book him for a modeling job for his clothing line.
After some time, they started hanging out with each other, drinking wine and taking cocaine at George's Shoreditch flat. But things between them turned sour when Carlsen claimed that George made unwanted sexual approaches.
What Actually Happened Between Them?
During an interview, Carlsen described the complete incident. Carlsen said he was looking to get some milk and heard someone talking. He thought it was a neighbor. Then he went to the bedroom, and there he saw George with another man.
George and another man kicked Carlsen and dragged him along the floor as soon as he entered the bedroom. Later, George handcuffed Carlsen to the wall and asked the man to go.
He said he can deal with him now. Carlsen was hooked to the wall for about half an hour. Carlsen said he was beaten and threatened with a sex toy before fleeing the apartment in his underwear.
However, George denied the charges and claimed that Carlsen had hacked his laptop and stolen pictures. George admitted that he handcuffed Carlsen to the wall as he was looking for his property.
He also admitted that he was high on cocaine and was experiencing a psychotic episode during the incident.
How Prison Impacted Boy George's Life?
During an interview, George described his time in jail as a life-changing moment. George said he maintained that prison would finish him off, but it didn't, as he somehow found the strength.
George felt he survived the situation with some wisdom and knowledge. He didn't view it as a negative phase of his life. However, George regretted what he did to Carlsen and blamed it on his drug addiction.
Where is Boy George Now?
After being released from prison, George is back to his normal life. Now, he is completely focused on his music career. He blamed drug addiction for his actions in the past. In 2017, he even publicly apologized for what he did to Audun Carlsen.
View this post on Instagram
But Carlsen didn't feel the apology was genuine and asked for a personal apology. Carlsen said he can forgive, but it has to come from a truthful place.
Frequently Asked Questions
1. How Old is Boy George?
Born on 14 June 1961, George is 62 years old.
2. How much is Boy George's Net Worth?
As of 2023, George's net worth is estimated to be around $50 million.
3. Does Boy George Have Kids?
No, George is not married and doesn't have any children.
4. When Did Boy George Release From Prison?
George was sentenced to 15 months but was released after four months due to his good behavior.
5. What is the Real Name of Boy George?
George's real name is George Alan O'Dowd.
Wrapping Up
Boy George's time in prison remains a pivotal chapter in his life. His journey from stardom to incarceration and eventual redemption serves as a reminder that even those who seem larger than life are susceptible to struggles.