Boy George, an iconic English singer, songwriter, and DJ who rose to fame as the lead singer of the 1980s pop band Culture Club. He has left an indelible mark on the music industry throughout his illustrious career.
With his striking and unique style, Boy George captivated audiences worldwide and garnered a massive net worth of $50 million.
This article delves into the personal and professional life of George, shedding light on the success and wealth he has amassed over the years.
Who is Boy George?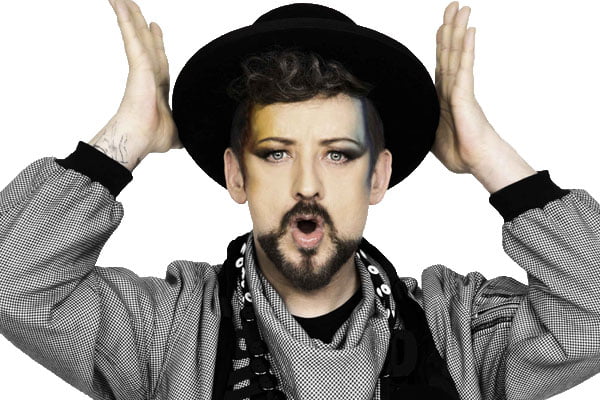 | | |
| --- | --- |
| Full Name | George Alan O'Dowd |
| Professional Name | Boy George |
| Date of Birth | 14-Jun-61 |
| Birthplace | Barnehurst, Kent, England |
| Age | 62 years |
| Nationality | English |
| Ethnicity | Irish |
| Gender | Male |
| Sexuality | Gay |
| Religion | Catholic |
| Zodiac Sign | Gemini |
| Marital Status | Unmarried |
| Height | 6 Feet 0 inches |
| Weight | 80 Kg |
| Profession | Singer, Songwriter, Disc Jockey |
| Net Worth | $50 million |
Born on 14 June 1961 in Barnehurst, Kent, England, George Alan O'Dowd, professionally known as Boy George, is a British singer, songwriter, and DJ. He rose to fame in the 1980s as the lead singer of the English new-wave pop band Culture Club.
The band achieved significant success in the early to mid-1980s with hits like "Do You Really Want to Hurt Me," "Karma Chameleon," and "Time."
George's distinctive style, featuring flamboyant makeup, colorful outfits, and a long braided hairstyle, made him a prominent figure in the New Romantic music scene.
His gender-bending fashion choices challenged traditional norms and inspired many in the LGBTQ+ community. Apart from his work with Culture Club, George has also had a successful solo career with several hits, including The Crying Game and Everything I Own.
What is Boy George's Net Worth?
As of 2023, George's net worth is estimated to be around $50 million. His income primarily stems from his successful music career, album sales, and royalties from his iconic hits like Karma Chameleon.
He has also toured extensively, performing in sold-out arenas worldwide, contributing to his net worth.
Career
Beginning
George grew up in a working-class Irish family. As a young boy, he developed a keen interest in music, inspired by the glam rock and punk movements of the time.
He began experimenting with makeup and androgynous fashion, a signature style that would later become synonymous with his name.
George's career took off in the late 1970s when he joined the New Romantic movement, which celebrated artistic expression and flashy clothing. Then, he started his music career as a member of the group named Bow Wow Wow.
Later, George left the group and started his own pop band in 1981, Culture Club. In 1982, the band released their debut album, Kissing to Be Clever. The album's lead single, "Do You Really Want to Hurt Me," topped the charts, propelling the band to international stardom.
Disbanded Culture Club
Before disbanding, Culture Club became a global sensation in the 1980s, and George's distinct voice, captivating performances, and flamboyant stage presence made him an instant icon.
The band was known for giving some successful hits like Karma Chameleon, Time, and Church of the Poison Mind that solidified their status as one of the decade's most successful pop acts.
By the late 1980s, George has become more of a central figure, booking cameos on shows like A-Team and receiving tons of media attention.
During George's ongoing controversy for his alleged drug addiction, the group released a fourth album titled From Luxury to Heartache, featuring a successful hit like Move Away. After the album was released, the band finally disbanded.
Solo Career
After the Culture Club disbanded due to George's drug addictions, he went to receive treatments. In 1987, George began his solo career by releasing his first solo album, Sold.
The album performed moderately well in the UK but went almost entirely unnoticed in the United States. In the late 1980s, George established his own record label and continued to release several popular singles.
In 1992, George released a hit titled The Crying Game, which was included on the soundtrack of the movie The Crying Game. It became his first major hit widely popular in the United States.
In the next period of his career, George became interested in electronic devices and became a well-known DJ in London. "Cheapness and Beauty" and "The Unrecoupable One Man Bandit" were his albums that reflected his change.
View this post on Instagram
Investments and Assets
Boy George invested most of his worth in real estate. During the 1980s, when he was at the peak of his fame, George invested an undisclosed amount for a gothic Grade-II-listed mansion in the North London Hamlet of Hampstead.
The mansion contains six bedrooms, a movie theatre, a private roof terrace, and a meditation space.
However, the property remained under George's name for four decades. In September 2022, he listed the mansion for sale for about $19.5 million after performing a major renovation.
Frequently Asked Questions
1. How much is Boy George's Net Worth?
As of 2023, George's net worth is estimated to be around $50 million.
2. How much Does Boy George make from Karma Chameleon?
George made over $6 million from one of his hits, Karma Chameleon.
3. Is Boy George Gay?
Yes, George himself admitted that he is gay, not bisexual.
4. Has Boy George ever been in a Relationship?
George was in a relationship with Culture Club drummer Jon Moss.
Wrapping Up
With his unmatched talent and fearlessly creative spirit, Boy George has left an indelible mark on the music industry. From his early career beginnings in the Culture Club to becoming a global pop icon, he has achieved remarkable success.
As an influential figure who has inspired generations, George continues to be celebrated for his artistic contributions.