Considering that you are a Marvel Cinematic Universe fan right from the start, a regular go-watcher or just diving into the universe of Marvel in recent times through peer-obsession of your fellow mates.
Then it would be best to acknowledge that MCU is the role model behind the introduction of a lot of fantastic TV shows and movie characters. Starting from Iron Man ( 2008 ), Captain Marvel ( 2019 ), The Incredible Hulk ( 2008 ), What If ( 2021), Black Widow ( 2021 ), and Guardians of The Galaxy (2017), all these epic shows are the pioneers of the foundation of MCU. However, as mentioned earlier by MCU, all the telecasts feature Disney Plus as if it is a one-stop destination for all Marvel Fans.
The only exception to the Disney plus Marvel movie hub is our friendly childhood superhero, Spiderman. Moreover, in 2021, Disney Plus and Marvel Cinematic Universe introduced a whole new limited series show generation. We still can't find Spidy on that list.
You could only find glimpses of Spiderman on Disney Plus by watching Captain America: Civil War and as a savior in Avengers: Endgame and Avengers: Infinity War. However, finding our childhood comic hero on a solo adventure is still not in the league.
Let's dive into the reasons why doesn't Disney plus have Spiderman.
Is Spiderman on Disney Plus?
Recently, with the release of Spiderman: No Way Home, the buzz is all around the Multiversal Marvel Universe. With the featuring of multiple Characters on Spiderman-No Way Home, alongside familiar Villains, fans wonder if all the characters can be on one-stop, that is Disney Plus.
The urge among fans to watch all the previous sequels of Spiderman along with Tom Holland's forerunner, Andrew Garfield and Tobey Maguire. However, even after recurrent requests from fans, the question remains stagnant: Why doesn't Disney Plus have Spiderman?
Let us revert to the start of the Spiderman production unit. Sony Pictures bought the Solo Spiderman movie rights from Marvel in 1999. Spiderman is a Marvel comic character, and Disney is the sole proprietor of MCU. However, Disney/Marvel doesn't own the rights to feature Spiderman.
This might sound a little puzzling, but it's a simple scenario, so let's look into it further.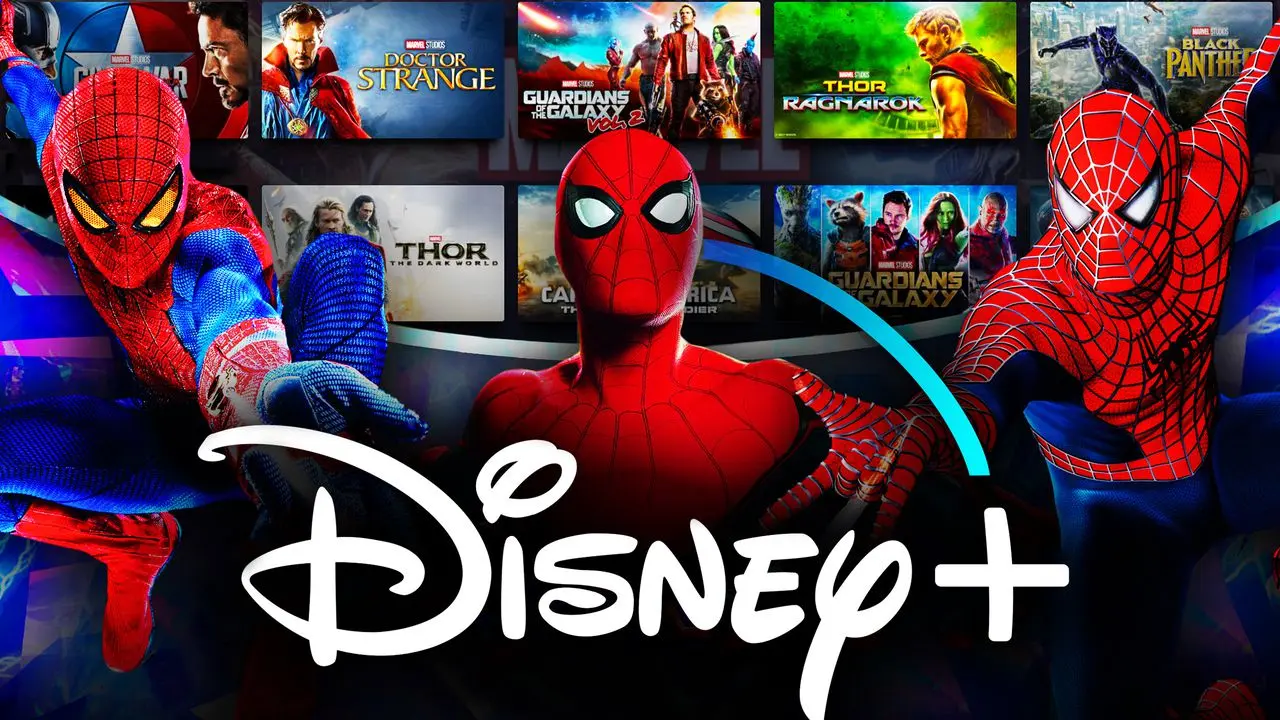 What is the History Behind Spiderman Not Appearing on Disney Plus?
During the 90s, Marvel Comics issued licenses to many of its characters to renowned Studious to achieve worldwide acclamation and feature those dramas on the Big Screen.
This includes many famous comics from Marvel that are sold to studious like Universal, 20th Century Fox, and characters like The Fantastic Four, X-Men, and others. Likewise, Sony/Columbia Pictures bought the rights to Spiderman. Since then, starting from 2002's Spiderman, the swinging comic Character received worldwide recognition.
After this, Sony broadcasts several Spiderman movies as part of the deal made with Disney/Marvel. Now, what this deal is all about? The deal was very simple; the Studio could keep on reviving the characters on screen using the rights.
However, Marvel kept a time span regulation theory, according to which the span between the release of movies of the Character has to satisfy a specified time limit. Otherwise, if it extends the time limit of releasing the subsequent movie, Marvel can revive their rights to the Character.
Due to this, certain Studios stopped making movies, and those characters again became a part of MCU and Marvel retains the right to itself once again. However, on the other hand, Sony never really stopped making Spiderman Movies. With a total of Five Spiderman movies made over 12 years in-between Spiderman and The Amazing Spiderman, Sony was booming with Profits. Moreover, these five movies possess a Box office earning of $3.9 billion.
Moreover, Sony has to produce one Spiderman movie every five years to ensure the Rights. Also, the current frequency and The Amazing Spiderman's brilliant performance and acclamation worldwide were creating a buzz. However, The Amazing Spiderman didn't receive a good response at the box office, contrary to the expectation of Sony Pictures.
Under What Condition Will Disney Plus Stream Spiderman?
As a result, Sony Pictures ended the running of The Amazing Spiderman, which made profits half of 2002's Spiderman. This was seemingly disappointing to the franchise.
On the other hand, MCU's Captain America: The Winter Soldier and The Guardians of The Galaxy were making a boomer at the Box-office. MCU was growing rapidly during this time, and the Spiderman series was underlying and falling back. These trying times propel Sony Pictures and Marvel to link and group to make the Character alive again.
A new uneasy agreement came on application, under which Sony Pictures will have the movie rights. However, Marvel can get to use the Character of Spiderman in MCU. Although the solo adventure of Spiderman is still with Sony Pictures, they both agreed on the deal.
With a one-off payment of $175 million to Sony Pictures, Marvel Studious bought full merchandising rights of Spiderman. The deal was a grand success.
The agreement was a good initiative as we see Tom Holland in MCU movies like Captain America: Civil War, a couple of Avenger sequels, Doctor Strange, Happy Hogan, and Iron Man. Even Columbia Picture Studio is a co-producer of Spiderman: Into the Spider-Verse, partnering with Marvel Studios. Although Sony has one thing exclusively to itself, that is the streaming of Spiderman Solo adventures. This agreement was till 2019; however, the success of the contract forced its extension, fortunately.
Now chucking out, why doesn't Disney Plus have Spiderman? It is simple because Sony Pictures is not only restricted to theatres, but it streams on home televisions too. Moreover, solo Spidy films are the exclusive property of Sony and not Disney.
This justifies the limited presence of Spiderman on Disney Plus. Since full-fledged featuring of Spiderman movies on the Disney Plus platform would have required a separate agreement with the Studio.
When Will Spider Man Be on Disney Plus?
However, it will not always be doomsday for Disney Plus viewers, as according to reports and our findings, Spiderman is all set to stream on Disney Plus from 2022. There will surely be an upcoming discussion about the streaming of Spiderman sequels and the previous movies of the Character on Disney Plus.
According to sources, there will be a new arrangement between Marvel Studios and Sony Pictures. The arrangement will include the streaming of Spiderman and Tom Holland's movies on Disney Plus. However, it will have to wait under the current License agreement of Sony Pictures.
With popular OTT platforms like Netflix and Sky's agreement with Sony Pictures to expire. Like there is no specific time for the streaming of Spiderman Adventures on Disney Plus as of now, but until Summer 2022, it shall be on your Disney Plus channel.
Moreover, Spiderman movies like Tobey Maguire and the Andrew Garfield films will also feature alongside the modern Tom Holland version. Rest assured, the Spiderman series of movies will undoubtedly appear on Disney Plus in the near future, contrary to its growing popularity.
In 2021, Netflix grabbed hold of Spiderman's streaming rights, and now all future films from the Spiderman series will premiere on Netflix. However, absolute ownership of the Spidy world will be transferred to Disney Plus until 2022, a concrete assurance.
Frequently Asked Questions:
Does Spiderman: Far From Home stream on Disney Plus?
Unfortunately, Spiderman movies are not part of the Disney Plus watch list.
Where to watch Spider-Man: No Way Home? Will it be available on Disney Plus?
Unfortunately, as of now, you can stream No Way Home on Disney Plus. However, you can watch it on other streaming services platforms like Netflix, Hulu, or Amazon Prime Video. Moreover, you can buy the movie on rent on iTunes or Google Play.
What Marvel movies streaming on Disney Plus have Spiderman in them?
Captain America: Civil War (2016), Avengers: Infinity War (2018), and Avengers: Endgame (2019) feature the character of Spiderman on Disney Plus.
Is there any animated series of Spiderman on Disney Plus?
Yes, Disney Plus has a classic collection of Spiderman Animation movies that you can binge-watch in leisure. These are:
| | |
| --- | --- |
| Spider-Man | 1981 |
| Spider-Man and His Amazing Friends | 1981 |
| Spider-Man: The Animated Series | 1994 |
| Spider-Man Unlimited | 1999 |
| Ultimate Spider-Man | 2012 |
| Marvel Ultimate Comics | 2016 |
| Spider-Man | 2017 |
| Spider-Man Shorts | 2017 |
| Spidey and His Amazing Friends | 2021 |
| Meet Spidey and His Amazing Friends Shorts | 2021 |
Conclusion
To conclude, the wait won't be too long for the streaming of Spiderman movies on Disney Plus. Moreover, the topic has been the talk of Marvel Universe fans for quite a long time now. Therefore, it's time they get an adequate response from the franchise now as it will be a logistic agreement. So hold on to your watchlist on Disney Plus for a bit more time; you will probably enjoy the streaming of Spiderman on Disney Plus later this year.