As for most anime, it is pretty confusing and difficult to assume the correct age of the characters, and the same with Demon Slayer: Kimetsu no Yaiba. Some of the characters look young but are very old, and some act so matures on-screen, defining endless possibilities that you might think them to be middle-aged. However, most of the characters in Demon Slayer are of the teenage group, conquering unbelievable missions at a young age. Here we have data on Demon Slayer's main character's age, birth date, and height.
Demon Slayer's Main Character's Age, Birthdate, And Height Statistic Report
| | | | |
| --- | --- | --- | --- |
| Character | Age | Birthdate | Height |
| Tanjiro Kamado | 13 (15 by episode 3) | July 14th | 5'5″ / 165 cm |
| Zenitsu Agatsuma | 16 | September 3rd | 5'5″ / 164.5 cm |
| Kanao Tsuyuri | 16 | May 19th | 5'1″ / 156 cm |
| Sanemi Shinazugawa | 21 | November 29th | 5'10" / 179 cm |
| Shinobu Kocho | 18 | February 24th | 4'11" / 151 cm |
| Mitsuri Kanroji | 19 | June 1st | 5'6″ / 167 cm |
| Muichiro Tokito | 14 | August 8th | 5'3″ / 160 cm |
| Kyojuro Rengoku | 20 | May 10th | 5'10" / 177 cm |
| Muzan Kibutsuji | 10,000+ | N/A | 5'10" / 179 cm |
| Daki | 113+ | N/A | N/A |
| Nezuko Kamado | 12 (14 by episode 3) | December 28th | 5'02" / 153 cm |
| Inosuke Hashibira | 15 | April 22nd | 5'5″ / 164 cm |
| Genya Shinazugawa | 16 | January 7th | 5'11" / 180 cm |
| Giyu Tomioka | 19 (21 by episode 15) | February 8th | 5'9″ / 176 cm |
| Tengen Uzui | 23 | October 31st | 6'6″ / 198 cm |
| Obanai Iguro | 21 | September 15th | 5'4″ / 162 cm |
| Gyomei Himejima | 27 | August 23rd | 7'2″ / 220 cm |
| Sabito | 131 | NA | NA |
| Akaza | 200+ | N/A | 5'8″ / 173 cm |
| Gyutaro | 126+ | N/A | N/A |
Demon Slayer Main Character's Brief Overview
Muzan Kibutsuji
Muzan Kibutsuji is the prime antagonist of the anime series, and his horrifying villainous act calls the Demon Slayer Corps into action. Moreover, all of the tragedy of Tanjiro is caused due Muzan, the killer of his parents. Although recurring much hate from all aspects of the show, Muzan is an integral key character that fires up the rivalry.
Muzan is over 1000 years old, unlike other demons over 100 years old. He possesses the unique ability to live for years, spreading his demonic acts over the years. However, despite his overgrowing age, he always looks young and is away from any illness. However, this is a result of the medicine that he drinks to make him forever young and healthy.
Muzan has immense abilities and power in his possession, and it would take a lot for Tanjiro and other Demon Slayers to conquer him. However, the Demon Slayers are young, and there are a lot of events following in the story that make them stronger to fight against Muzan. How the antagonist carries out his demonic acts of murdering influential characters of the show is quite thrilling to witness.
Gyomei Himejima
There is little presence of the gentle giant Gyomei Himejima in the anime's "Entertainment District Arc". However, we can speculate that the background character Gyomei is yet to be explored more refined in the show's next season, "Hashira Training Arc".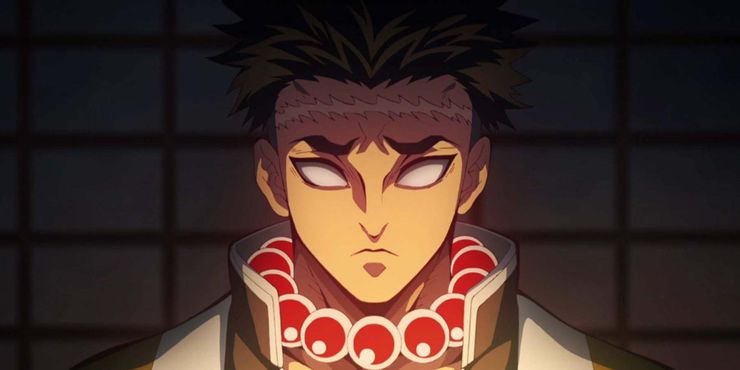 Gyomei might seem to be a soft and light personality character. However, he possesses the ability to sense his surrounding affairs. Moreover, he is the tallest and oldest of the main cast and Hashira, with an exclusive appearance. Hopefully, we will experience Gyomei in the next season with much more definition of his abilities and power as a Demon Slayer.
Gyomei is very much conscious of his surrounding in quite a composure. Thus even though he has complete faith in the Demon Slayer Corps, that doesn't mean he fully trusts his associates.
Muichiro Tokito
Muichiro Tokito, at the age of 14, is one among the nine Hashira and, commonly, the Mist Hashira. Although he might seem to be quiet and calm, expressing no emotions, he has long kept grief and tragedies in him. Thus, he might be an effective Demon Slayer when the time comes to shower his anger and avenge his story.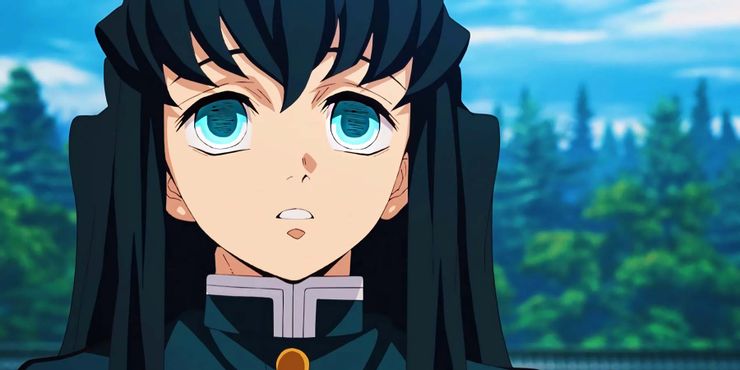 Muichiro is more of an introvert showing less care and interest in things and dwells in his world. He is the same age as Nezuka and younger than most other demon slayers. However, we cannot underestimate his powers as a young demon slayer who has earned the position of Hashira with just two months of training.
Moreover, he has an innate proficiency as a Mist Breather and in creating forms.
Inosuke Hashibira
Inosuke is an energetic, desperate, careless, short-temperate Chad who is always into fighting his opponents. He doesn't hesitate to put up a fight and usually doesn't believe in talking terms. Moreover, he is just finding opponents who can match him for good combat training when nothing to do.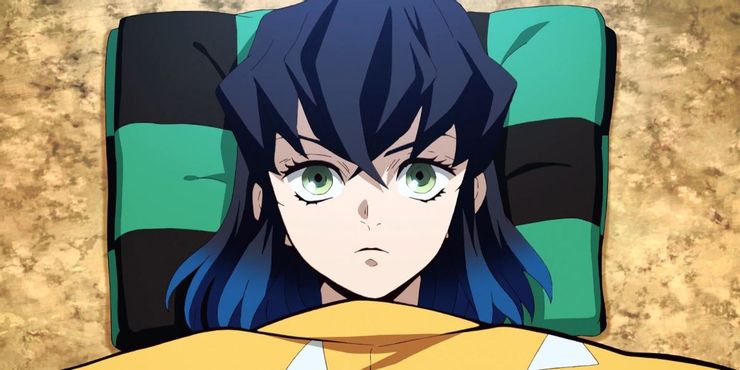 Unlike other demon Slayers, Inosuke's past also wraps up the story of tragedy. Thus, he struggles with expressing human emotions, customs, and traditions. However, his affiliation in the Demon Slayer Corps is changing him, and it's easier with his polar opposite Zenitsu covering up for his flaws. Nevertheless, Inosuke can take care of himself, but sometimes Zenitsu and Tanjiro have to stop him.
Tanjiro Kamado
Tanjiro Kamado is the prime protagonist of Demon Slayer, whose past life is filled with the horrors of Demon. Thus, he harnesses strong anger to seek vengeance for the death of his parents against the demonic powers.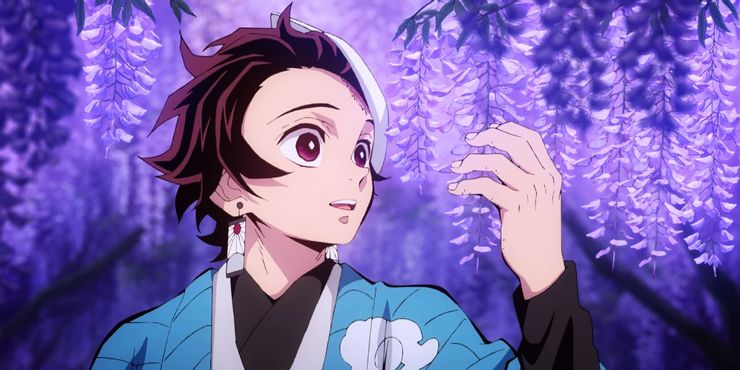 Hence, he joins the Demon Slayer Corps to eradicate the evil forces that killed his parents and turn his sister Nezuka back into a human. Tanjiro has an innate ability to take the right effective decision even though having a kind and calm personality.
Tanjiro is the one maintaining order in his family with an efficient and practical approach to helping others. Moreover, he is very much aware of his role and responsibility as the oldest living member of his family. Thus, he is always protective and caring towards other clan members. He even resolves issues between the annoying duo of Inosuke and Zenitsu maturely and calmly.
WIELD YOUR BLADE AGAINST THE DEMONS DRAWING NEAR ⚔️

Demon Slayer: Kimetsu no Yaiba Swordsmith Village Arc starts streaming on @Crunchyroll starting April 9th! pic.twitter.com/ns88IYj8wJ

— Demon Slayer: Kimetsu no Yaiba (English) (@DemonSlayerUSA) March 31, 2023
Nezuka Kamado
Nezuka Kamado stars as one of the young characters from the anime series. She is only 12 during the show's beginning when she transforms into a demon due to the demonic curse. Later in the series, we see her as a 14-year-old demon, and Tanjiro wants to alter her back into human form.
Nezuka, as a demon, is far more agile and fearless, and a massive change happens in her personality after she transforms into a demon. However, he still doesn't wholly give up on his human form and has that protective affection toward Tanjiro.
Moreover, Nezuka, after her demonic alteration, gained the ability to shrink herself and fit inside any box. This also makes her appearance seemingly younger than her actual age. She looks even more childish, and with other minor details like wide eyes, she looks younger than her actual age.
Zenitsu Agatsuma
Out of the four siblings, Zenitsu is the oldest. He is the polar opposite of Inosuke and very conscious of his peace and non-violence. However, his coward-like behavior makes him act like the youngest of them all.
The character of Zenitsu appears to have fair skin and goldeneyes, a crybaby who is not self-sufficient. He particularly has very low self-esteem, and thus his fighting skills are often overpowered by such quiet confidence. Although with all these backdrops, Zenitsu never leaves the side of his close ones and is much more protective.
Although there is little proof of Zenitsu's ability, he is very much capable of a weapon. But since his natural tactic is to run away from trouble, he never really got the chance to prove his true potential.
Yoriichi Tsugikuni
Yoriichi Tsugikuni is a fictional character from the manga series "Demon Slayer: Kimetsu no Yaiba" created by Koyoharu Gotouge. He is an important figure in the series and plays a significant role in the overall story.
Yoriichi Tsugikuni was a powerful swordsman and the original user of the Breath of the Sun (Hinokami Kagura), one of the breathing styles utilized by the demon slayers in the series. He was considered to be one of the strongest demon slayers of his time and possessed immense skill and strength.
Yoriichi's backstory reveals that he was born with a unique ability called the "Transparent World" that granted him incredible perception and awareness of his surroundings. This ability allowed him to see the weak points and vulnerabilities of demons, making him a formidable adversary. He also had a mark on his forehead called the "Mark of the Sun," which symbolized his connection to the Breath of the Sun.
Kanao Tsuyuri
Kanao has beautiful, large, dark, kindhearted pink eyes and black eyes tied in a ponytail. He is just 16 years old, devasted from his past; he shows no emotion and is often indecisive.
Unlike other main characters of the Demon Slayer clan, Kanao matures too, but there are not many events that the series unfolds about Kanao.
Sanemi Shinazugawa
Sanemi is only 21 when he joins the Demon Slayer Corps, where his undeniable anger and hatred for Demon find space.
He is also a short-tempered kid with a foul mouth and is massively desperate to destroy the demons. Moreover, he wants everyone to know his anger against the demons and thus goes into a brutal way of conquering them. He is the Wind Hashira, who is very much fearsome and doesn't want anyone else to mess around with him. Also, his gruesome gaze is enough to freeze the souls of the enemy that he encounters on his way.
We can only speculate how ruthless this Demon Slayer can be over the years against the Demon. He is also one of the most popular characters among manga fans and has a lot of potential in uplifting the anime theme.
Genya Shinazugawa
Genya is another anime character with a tragic and saddening backstory. The horrors have gone too far in the case of Genya's past, for he witnessed his demonic mother killing his siblings.
Moreover, to avenge the death, his brother Sanemi kills her mother. Although he doesn't possess the ability of breathing, Genya is a mighty Demon slayer who can absorb demonic powers.
Genya is one of the most convenient Demon Slayers to work with; unlike Shanemi, Genya is also a hot temper. However, as the series proceeds, we see him as light-hearted and more socially friendly.
Giyu Tomioka
The strongest of the nine Hashira, Ginyu, is just 19 years old. Giyu is one of the most mature of the Demon Slayer Clan and is adamant about whatever he utters.
Moreover, he believes in keeping things to his chest and wants other Demon slayers to follow the same. Giyu also had a horrifying past, where his sister sacrificed her own life to save Giyu from demonic attacks.
Giyu is one of the senior members of the Demon Slayer clan; however less confident about his personality.
Shinobu Kocho
You l get the first impression of a friendly and frank-natured Demon Slayer about this Demon Slayer. Someone who always greets with a smile on her face and carries good humor to chill out with everyone.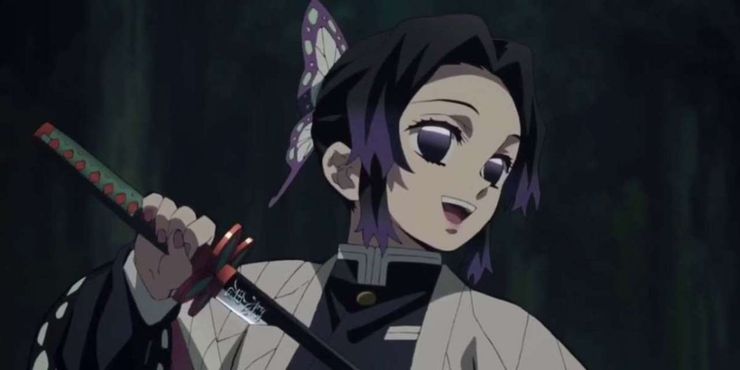 However, all these are done by her to cope with the anger that he possesses against the evil demonic forces. She hides her anger and grief under a smiling face. Her own sister Kanae Kocho was a victim of the demon murders.
Shinobu is extremely fearsome at times with his blade and words. She can easily manipulate demons with her flawless humor by forming an appropriate sentence. Moreover, she does it with a pinch of a grin on her face.
Tengen Uzui
Tengen is trained with ninja techniques in a sound administration by his cruel and strict father. He is also a Hashira, with stylish and striking personality traits.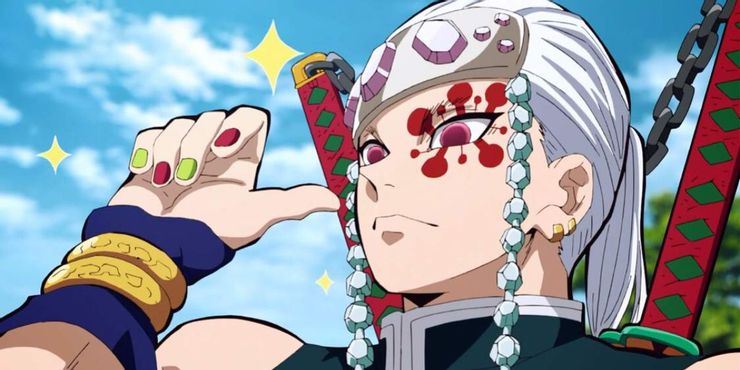 However, unlike other Demon Slayer's past, Tengen had not had many grudges against the demons. But he is an essential member of the demon Slayer clan because of his unique skills on the battlefield.
He had a tough time dealing with his family during his childhood, especially his father. Moreover, he killed his siblings after facing a deception from his father. Thus he fled away and stopped following the teachings of his father.
Mitsuri Kanroji
She is the Love Hashira and shares a fire bond with Rengoku. However, we didn't feel the presence of the Demon Slayer enough, but his part is an integral, essential story. For now, anime fans will have to wait for her power to get exposure widely for the next season.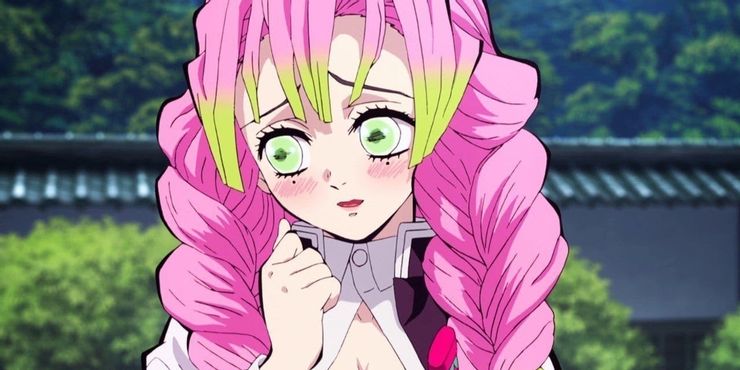 Rengoku and Mitsuri were very close, and Rengoku even taught Mitsuri fire breathing. Mitsuri was a quick learner, and later she was taught to Love Breathing to excel in her combat abilities. However, Mitsuri is not friendly with everyone and is quite reserved, and doesn't express her opinions in front of everyone. Though,s she is much caring and thus earns the name of Love Hashira.
Obanai Iguro
The true personality of this character is still a mystery. However, he is known to be the serpent Hashira because of his powerful abilities.
Till then will have to wait for how the character evolves over time and what new power he can attain.
Kyojuro Renguko
Another integral character from Demon Slayer: Kimetsu no Yaiba the Movie: Mugen Train, Kyojuro Rengoku rises like a phoenix. Leaving Tanjiro, Kyojuro is the sincerest of all other Demon Slayers and is effective in fighting battles.
Kyojuro has an optimistic approach toward everything he sees or feels near him. He has an innate ability to be calm even in great distress.
Sabito
Sakonji taught Sabito during his Final selection training in the Demon Slayer world. The cruel teacher Sabito pushes his student's limits to the furthest possible line. Even Tanjiro is declared unfit and too weak to survive Sakonji's training.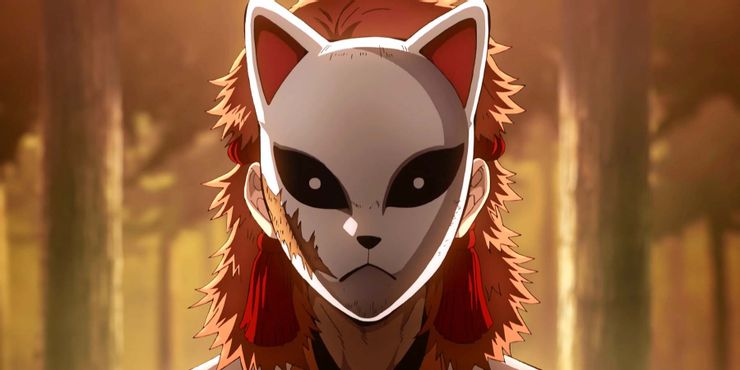 He, too, has a past to cry and be in grief. However, the strong demon slayer helped a number of characters during their training days, including Tanjiro Kamado.
Akaza
These are Upper-Rank Three Demon features in Demon Slayer: Mugen Train has made spectacular appearances. The brutal fight against Rengoku is chilling to the bones, with the end concluding Flame Hashira's death.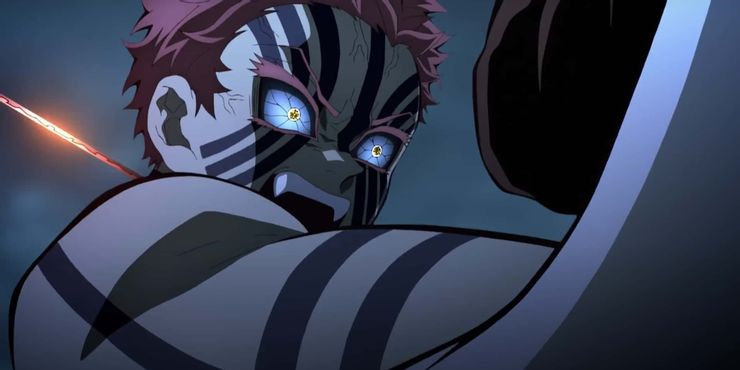 However, Akaza is not someone to be trifled with, and he's bound to play a major role in the events to come. Unfortunately, only the manga fans are aware of how events will play out — anime fans will have to wait a while for that.
Daki
Daki is one of the prime antagonists and villains with a ruthless policy that he adapts in his killings. He is one of the Upper ranks six demons who have faced fearsome past internal injuries, but fortunately, Gyutaro, his sibling, saves him.
We don't know much about the villain apart from his demonic transformation during his teenage years. Daki is almost the same height as Tanjiro and Nezuka. However, her brother Muzan is way taller than her.
Daki is always in search of Muzan's approval of the killings so that she can administer them herself. However, she has a lot of insecurities in herself and aging more than 100 years.
Gyutaro
Gyutaro is a Twelve Kizuki's Upper-Rank member and sibling of Daki. His appearance and personality appear brutal and fearsome, where slaughtering masses is his passion.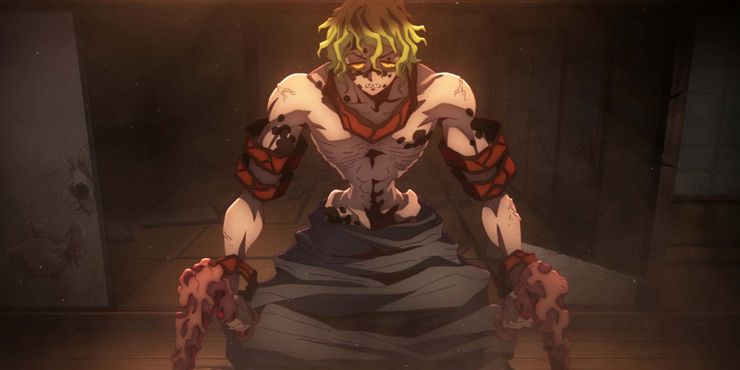 However, he is a caring brother to his sister Daki, which is never like the rest of the world. Unlike his sister, he is also insecure and targets happy life and those that he considers more fortunate than him.
So far, we don't know anything about Gyutaro's height and birthday. However, like his sister, Gyutaro is over a hundred years old. Moreover, his height is taller than Daki's, so he is most likely around 5'11".
Frequently Asked Questions:
How old is Tanjiro and Nezuka?
Tanjiro was only 13 years old when he first received the big blow of his life, the death of his father and mother. Kibutsuji Muzan, a demon, was the killer. At this time, Nezuka was just one year younger than him at 12 years of age.
Is Tanjiro a demon?
Yes, Tanjiro transforms into a demon after the horrifying past he faced along with Nezuka. Thus he became a fearful beast, sparing no one and uncontrollably daring.
Whom did Tanjiro and Nezuka, Marry?
Tanjiro marries Kanao and starts a family life, having two great-grandchildren named Kanata Kamado and Sumihiko Kamado.
Nezuko Kamado marries Zenitsu Agatsuma has two great-grandchildren, Yoshiteru and Toko Agatsuma, and looks exactly like the pair.
What is Tanjiro'sfavourite color?
Yellow is Tanjiro Kamado's favorite color.
Did Nezuka have kids?
Nezuko Kamado indeed has children with someone chasing her the entire series.
Final Thoughts
The article informs about every small detail regarding the main characters from Demon Slayer: Kimetsu no Yaiba. Therefore, I hope that the information answers all your queries regarding the Demons of Demon Slayer. However, if there's any other question that you d like us to answer, do let us know in the comment section. Binge-watch these demons from Demon Slayer: Kimetsu no Yaiba, and dwell yourself into the action anime drama. Also, let us know what more details you would like to read from us about the Demon Slayer's world.