American Horror Story made its season 10 debut on 25 August 2021 with a brand-new scary story. The tenth season has the subtitle "Double Feature." The announcement was made on 3 August 2018. Ryan Murphy revealed the season's name on 19 March 2021.
Read our impressions on the season, with as few spoilers as possible, from the amazing performances of characters to mind-blowing storyline.
A Quick Info on American Horror Story Season 10
| | |
| --- | --- |
| Season Name | American Horror Story: Double Feature |
| Release Date | 25 August 2021 |
| Number of Episodes | 10 episodes |
| First Episode Date | 25 August 2021 |
| Last Episode Date | 20 October 2021 |
| Genre | Horror |
| | Anthology |
| | Thriller |
| Created By | Ryan Murphy |
| | Brad Falchuk |
| Produced By | Patrick McKee |
| | Ned Martel |
| | Lou Eyrich |
| | Evan Peters |
| Executive Producers | Sarah Paulson |
| | Manny Coto |
| Production Companies | Brad Falchuk Teley-Vision |
| | Ryan Murphy Television |
| Original Network | FX |
| Country of Origin | United States |
| Language | English |
| Running Time | 45-60 minutes |
What is the Release Date of American Horror Story Season 10?
On 25 August 2021 at 10 p.m. ET, the series premiered its season 10 in the United States. The next day, the series on Hulu did the same. Fox used to broadcast episodes in the UK. However, it has now been shut down, and the majority of its material has been moved to Star on Disney+.
American Horror Story Double Feature Trailer
Check out the season 10 trailer above.
Cast Members for Season 10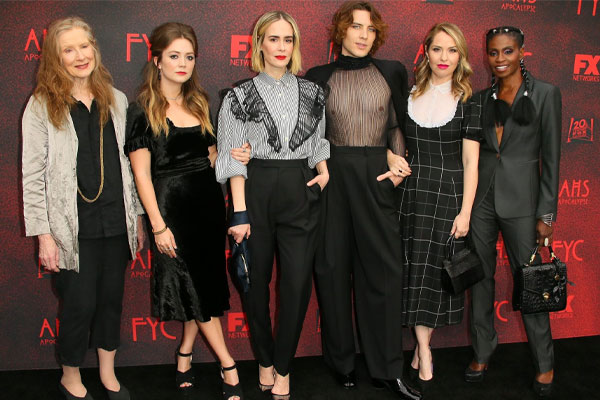 A cast announcement was made on 26 February 2020. Despite being initially included in the cast announcement, Kathy Bates eventually withdrew owing to health issues. Frances Conroy changed her.
Ryan Murphy revealed Kaia Gerber would also be a part of the American Horror Story gang on 23 March 2021. Below, we have curated a list of cast members and their characters played in season 10.
| | |
| --- | --- |
| Actor/Actress | Characters |
| Sarah Paulson | Lana Winters |
| Evan Peters | Tate Langdon |
| Lily Babe | Misty Day |
| Finn Wittrock | Dandy Mott |
| Frances Conroy | Moira O' Hara |
| Billie Lourd | Mallory |
| Leslie Grossman | Meadow Wilton |
| Adina Porter | Beverly Hope |
| Kaia Gerber | Kendall Carr |
What is Season 10 of American Horror Story About?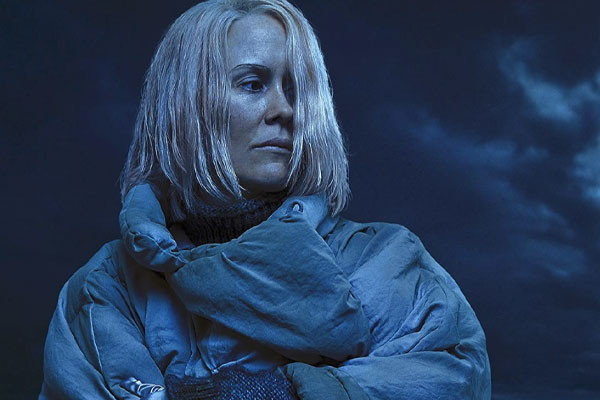 Season 10 entitled "Double Feature" is divided into two parts. The first part, "Red Tide," follows a struggling writer named Harry Gardner and his pregnant wife, Doris, who move to a small coastal town in Provincetown, Massachusetts, in search of inspiration for Harry's writing.
However, they soon discover that the city is inhabited by a group of pale, bloodthirsty people who feed on human blood to survive. These creatures are known as The Chemist, The Chemist's Wife and The Chemist's Daughter.
As Harry becomes obsessed with The Chemist's way of life and their method of achieving creative success, he risks his humanity and his family's safety to be a part of their world. Harry strikes a deal with The Chemist and begins drinking human blood, which results in his writing becoming more successful and popular.
However, as the addiction takes hold, Harry starts to lose his grip on reality and becomes a danger to his wife and their unborn child. In the second part, "Death Valley," a group of city dwellers goes on a vacation to the desert community of Provincetown, only to find themselves in the middle of a battle between a group of ancient, supernatural beings and a family of cannibalistic mutants who have taken over the town.
The supernatural beings include a group of aliens who have been on Earth for thousands of years and possess potent abilities. Meanwhile, the mutants are led by Austin Sommers and his sister, Mickey, who has taken over the town and turned it into a haven for their kind.
As the two factions clash, the vacationers must fight to survive and uncover the truth behind the town's deadly secrets. Along the way, they encounter characters such as Alma Gardner, Harry, Doris's daughter, and Belle Noire.
Throughout the season, themes of addiction, creativity, power, and survival are explored as the characters navigate Provincetown's dangerous and supernatural world.
How Critics Reacted on the Season 10 of the Series
According to some genuine sources, the season received a mixed reaction from the critics. Some people praised the season due to its innovative storytelling, amazing character performances and creative use of horror tropes.
On the other hand, some people criticized the season for being overly violent and exploitative. However, the series received 8 out of 10 ratings on IMDB. And according to Rotten Tomatoes, 80% of the audience liked the season.
Frequently Asked Questions
1. Who is the Creator of American Horror Story?
Ryan Murphy and Brad Falchuk are the creators of American Horror Story.
2. Is season 10 the Final Installment of the Series?
Fortunately not! Then in January, it was revealed that the series would continue for three more seasons, bringing us to season 13.
3. Where was American Horror Story Season 10 Filmed?
Season 10 was primarily filmed in Provincetown, Massachusetts, on the tip of Cape Cod. The show's creators chose Provincetown because of its scenic coastal location and rich paranormal activity, and folklore history.
The town's landmarks, such as the Pilgrim Monument and the Lobster Pot restaurant, are featured prominently in the season. Some scenes were also filmed in Los Angeles, California.
4. What Inspired the Concept for Season 10 of the Series?
The theme of duality inspired the concept for Season 10 of the series. Show creator Ryan Murphy has described it as two horrifying stories that are separate but equal. He has also stated that the season was influenced by the COVID-19 pandemic and its effect on the entertainment industry, with the production team looking for ways to make the show safe during the pandemic.
5. How Many Episodes are There in American Horror Story Season 10?
Season 10 is divided into two parts. The first part entitled Red Tide consists of six episodes and the second part entitled Death Valley consists of four episodes. So there are a total of ten episodes in season 10.
Wrapping Up
American Horror Story Season 10, titled Double Feature, concluded on 20 October 2021. The season had a total of 10 episodes, with each episode being around 45 to 60 minutes long. As previously mentioned, the season was divided into two parts, with "Red Tide" comprising the first six episodes and "Death Valley" comprising the last four.
Throughout the season, viewers were introduced to a diverse cast of characters and storylines that explored themes of addiction, obsession, and the duality of human nature. The season's setting in Provincetown, Massachusetts, provided a unique backdrop for the horror and supernatural elements incorporated into the story. Hope the information shown above is enough for you to enjoy the series better.