Will there be a Season 3 of Ginny & Georgia? The previous two seasons of the series were huge successes and received the best reviews from viewers. This program had a dramatic arc.
However, makers took two years to release the second season due to the pandemic. First season premiered in 2021 and the second season took place in 2023. So when we can expect the third season of the series.
Let's find out in the article below.
A Quick Info Regarding the Series
Release Date
24 February 2021
Total number of Seasons
2 Seasons
Total Number of Episodes
20 Episodes
First Episode Date
24 February 2021
Last Episode Date
5 January 2023
Genre
Comedy-Drama
Country of Origin
United States
Language
English
Running Time
50-63 minutes
Created By
Sarah Lampert

Produced By

Claire Welland
Todd Aronauer

Executive Producers

Debra J. Fisher
Sarah Lampert
Anya Adams
Jeff Tahler
Jenny Daly
Lance Samuels
Armand Leo

Production Companies

Queen Fish Productions
Critical Content Dynamic Television
Original Network
Netflix
Will There Be a Season 3 of Ginny and Georgia?
After a huge success of two seasons, fans are now eagerly waiting for the renewal of the series. However, the success rate of a series is one of the factors that can help us to anticipate whether there will be another season or not.
With IMDB ratings of 7.5 and 80% of people liking the show, there are possibilities that the series will renew for a third season. But makers haven't confirmed the news of renewal yet. So for now, we can't claim anything.
The release date for season 3 has yet to be revealed. But if we go for anticipation, we have to see the release date of its previous seasons. The series's first season was released on 24 February 2021 and the second season was released on 5 Jan 2023.
As we can see, there is a two year gap between the seasons. The reason behind this gap is the pandemic. After seeing the pattern, the next season should be released in 2025. But the earlier situation was different as there was Covid.
That is why the series took two years to renew for a second season. Now, there is nothing like that. So we can anticipate that the third season will be coming somewhere in 2024.
But there is no confirmation from the makers yet. We have to wait until confirmed news comes from one of the main members of the series.
Expected Cast Members for Season 3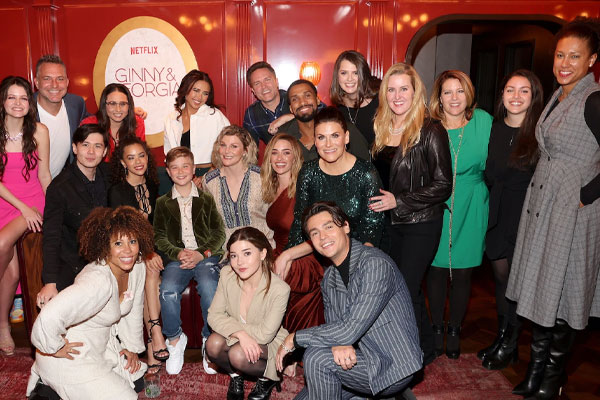 Since Ginny & Georgia has a sizable cast, viewers may anticipate seeing the following actors return in season three.
| | |
| --- | --- |
| Actor/Actress | Characters |
| Brianne Howey | Georgia Miller |
| Antonia Gentry | Ginny Miller |
| Jennifer Robertson | Ellen Baker |
| Felix Mallard | Marcus Baker |
| Sara Waisglass | Maxine Max Baker |
| Scott Porter | Mayor Paul Randolph |
| Raymond Ablack | Joe |
| Katie Douglas | Abby |
| Chelsea Clark | Norah |
| Diesel La Torraca | Austin Miller |
What will be the storyline of Ginny & Georgia Season 3?
After becoming married to Mayor Paul Randolph at City Hall, Season 2 ends with Georgia's unexpected arrest. At this point, Ginny and Marcus have broken up again, and Georgia and Austin have a tense relationship because of the incident with her kid and the dying guy resulting in her detention.
A third season could cover a wide range of topics. Before the arrest, Ginny and Georgia had an excellent relationship. Since Georgia was detained, Ginny and Austin will undoubtedly be impacted. Given that their mother is currently incarcerated, who will look after them?
However, after Ginny learns that Georgia was the one who killed Tom, things are likely to get worse. Austin is another option. He saw Georgia kill Tom and then watch as the cops arrested her. For a 10-year-old boy, this is a lot to handle. He'll probably need to have counseling, just like Ginny.
These delicate subjects were briefly discussed in the second season, but a third season may go further. Lastly, Abby's issues with body image have been hinted at in earlier seasons. The third season could go more deeply into her problems to identify the root of them.
Is there any Trailer for Ginny & Georgia Season 3?
No, there is no released trailer for the upcoming season. But for now, you can enjoy the overall trailer of the series to get a glipmse of the story.
Frequently Asked Questions
1. How many Seasons are There in Ginny & Georgia?
The series only has two seasons, both now streaming on Netflix. Each of the two seasons has ten episodes, with each episode lasting between 50 to 60 minutes.
2. Is it True that Ginny & Georgia are Based on a Book?
The Ginny & Georgia novel served as the foundation for the series. You may purchase and read this book. Both paper and digital copies of the book are offered on several websites.
3. Where Can We Watch the Previous Seasons of the Series?
The past seasons of the series are available on various OTT platforms, so if you have yet to see the previous season, you must watch them.
4. Is There Going to be a Season 3 of Ginny & Georgia?
For now, it is difficult to say whether there will be a season 3 or not, as there is no confirmation from the makers yet.
Wrapping Up
We hope you received every critical information regarding the upcoming Ginny & Georgia season 3. A piece of confirmed news has yet to come from the makers of the series regarding the renewal.
For now, we have to wait and watch. But what to watch? You can watch its previous seasons if you haven't to get a glimpse of the story.