Luisa is one of the most exciting and unique characters in Encanto. She could do any heavy weight-lifting task due to having supernatural powers. You can say Luisa is the strong and brave heroine in the movie.
If you want to have more information about the character Luisa, then read the article.
Who Is Luisa
Luisa is the middle child of Julieta and Agustin and the only child with a muscular build in the Madrigal family. Luisa is also the cousin of Dolores, Camino, and Antonio and the niece of Felix and Pepa. During her childhood, Luisa lived with her sister Isabela and Dolores. Dolores is two years older than her.
Once Dolores and Isabela received their gift on their birthday, they moved from the nursery room, and Luisa started living alone in that place.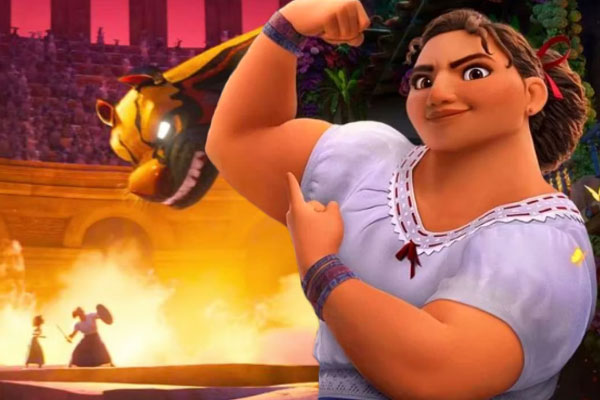 Magical Powers Owned by Luisa
On her fifth birthday, she received a gift of Superman strength. She can quickly move a mountain even though she could flatten diamonds rapidly, which is the most challenging material in the world.
She can also easily lift a bridge and carry any heavy thing. But like other cousins of hers, she also had some limitations about using her power which is not revealed in the movie. The townspeople used to utilize her magical gift for any serious task.
After having this magical gift, Luisa lived the same way in the nursery room by doing many tricks and moving out of the nursery into her room. She is tough from the outside but soft from the inside. She used to do all the family and community chores, but no, one ever asked her how she felt when doing these tasks.
However, Luisa did not care about the expectation of her. Instead, she was focused on showing her positive vibes and strength. But she had anxiety that one day she would mess everything up and people would not need her.
How Old Is Luisa in Encanto
Luisa is only 19 years old and older than Mirabel and younger than Dolores and Isabela. She is the second daughter of Julieta and Agustin. While Isabela is 21 years old and the oldest child of Encanto, Luisa is two years younger than Isabela.
Appearance of Luisa
Luisa is tall and physically more substantial than other children of the Madrigal house. She looked attractive with her tanned skin, hazel eyes, and brown hair. You can see Luisa has braided hair that was pulled at the back in a bun, and she used to tie her hair with a red ribbon in a bow style.
She has a supernatural strength that is clear in her dress. Her long indigo skirt with a short sleeve white shirt at the top and the dumbbell sewn at the bottom of her skirt indicated her power in the movie.
Character of Luisa
Luisa is a hardworking girl dedicated to her family and the townspeople. The character was shown to be highly tolerant even though she could do anything asked of her.
While the character poses strong confidence about her character, she also has insecurities. She believed that if she could not serve or use her gift, no one in the village would have longer needed her.
View this post on Instagram
Frequently Asked Questions
1. Who is older, Luisa or Isabela, in Encanto?
Isabela is two years older than Luisa. Isabela is the grandchild of Alma, and Luisa came after her. Dolores is also younger than Isabela but older than Luisa.
2. How Strong is Luisa?
She received her gift to have supernatural strength on her fifth birthday. She can easily lift mountains, flatten diamonds and lift bridges. In the movie, she was once sent to carry two children at her back while having a plate of sweets and to hold two pianos in both hands simultaneously.
3. Why was Luisa insecure about her strength?
Like others in the movie, Luisa also had some limitations regarding her power. The townspeople and family men used to put too much pressure on her, so she felt insecure about all of her strength.
4. Who Plays Luisa in Encanto?
American actress and singer Jessica Darrow played the character Luisa Madrigal.
Conclusion
Hopefully, now you have got your answer about how old Luisa is in Encanto. The character is unique in the movie. However, if you want to know more about other characters, you can follow our page. Hopefully, we can feed your every interest in the super magical movie Encanto.