Encanto is an American fantasy film released on 24 November 2021. The film showcases a multigenerational family where each member is embraced with magical gifts, except the main character Mirabel.
Keep reading the article to explore more about Encanto and the Madrigal family in the movie.
The Actual Meaning of Encanto
Encanto is generally a Spanish word. It means glamour, charm, and delight in English. The Collins Dictionary explains Encanto as The Allure of Something or anything in excellent quality.
Apart from that, the words also describe other things, such as people, magic, and tradition, which relate to the elements of the same film. It is a beautiful movie that casts some famous faces such as Stephanie Beatriz, John Leguizamo, and Wilmer Valderrama.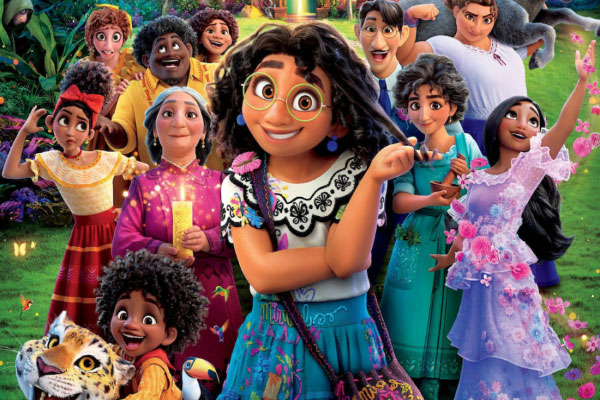 The Movie Encanto Overview
Release Date
24 November 2021
Genre
Family
Musical
Country of Origin
United States
Language
English
Spanish
Directed By
Jared Bush
Byron Howard
Written By
Jared Bush
Byron Howard
Jason Hand
Nancy Kruse
Lin-Manuel Miranda
Charise Castro Smith
Produced By
Yvett Merino
Clark Spencer
Running Time
102 minutes
Production Companies
Walt Disney Pictures
Walt Disney Animation Studios
How Does The Word Encanto Relate With The Movie
The movie is all about magic, self-love, and family. And the word Encanto relates with the movie very well as it also means spell. You can expect to have woven charm in every part of the movie. The movie is all about a Madrigal Family who has a charming home, and all the family members in this family come with magical powers.
In the same movie, the main character or protagonist, Mirabel, embarks on the journey of self-realization and realizes her charm of loving others unconditionally. She ends the journey by saving her family and restoring the magical power that endowed them.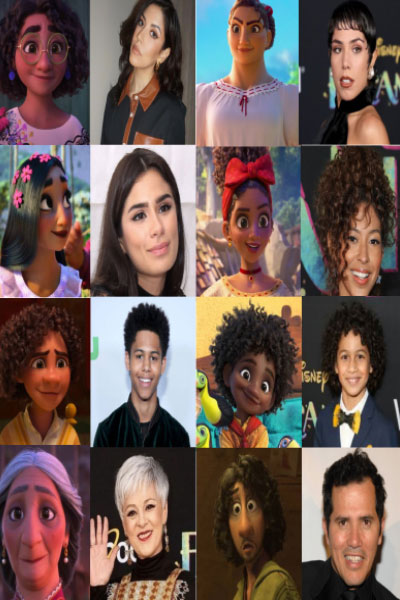 Encanto Cast
| | |
| --- | --- |
| Actors | Characters |
| Diane Guerrero | Isabela Madrigal |
| Wilmer Valderrama | Agustín Madrigal |
| Stephanie Beatriz | Mirabel Madrigal |
| Jessica Darrow | Luisa Madrigal |
| John Leguizamo | Bruno Madrigal |
| Angie Cepeda | Julieta Madrigal |
| Adassa | Dolores Madrigal |
| Mauro Castillo | Félix Madrigal |
| Alan Tudyk | Pico |
| Maluma | Mariano Guzman |
| Carolina Gaitán | Pepa Madrigal |
| Ravi-Cabot Conyers | Antonio Madrigal |
| Rhenzy Feliz | Camilo Madrigal |
Characters with Magical Powers
Uncle Bruno can predict the future, and he will not appear in the first part of the movie.
Mirabel's mom Julieta has magic in her cooking and can heal the sound of people effectively.
Aunt Pepa can change the weather as per her wish.
Mirabel's sister Isabela is a perfect girl in every way.
Luisa another sister of Mirabel, has unbelievable strength that no human can have
Antonio comes with the skill of communicating with the animals.
Camilo has the power to transform herself into anyone at any time.
The Magical Power of the MADRIGAL FAMILY
Once Mirabel discovered that each of her family members has exceptional power and they are in danger, she decided to protect her family. Alma Madrigal lost her husband Pedro and struggled to save her triplet children, such as Julieta, Pepa, and Bruno. Through a miracle, Alma lit a magical candle that created Casita, a home for the refugees. Soon, they built a town there named 'Encanto'.
the madrigals and their voice actors/actresses
by u/karenfelicia in Encanto
As Mirabel doesn't have any power, still, she is treated in her family differently. Once, Mirabel discovered a crack around the house and the flickering candle. But when she wanted to see it with other family members, everything returned to normal, and the other family members doubted her.
View this post on Instagram
But she struggled with herself and tried to utilize her intellectual power to save their place. Thus, she saved Encanto from unwanted danger and restored her family's magic.
Frequently Asked Questions
1. Why doesn't Mirabel have a magical gift?
Mirabel doesn't get any magical gift because she owns a supernatural brain that could lead her family after Abuela Alma. Mirabel's actual state was in her intellect.
2. What is Abuela's magical gift in Encanto
Like Mirabel, Abuela also didn't have any magical gifts instead of holding power over the family. She was the keeper of the magic candle that created 'Castila'.
3. Who is the Villain in the Movie?
No one had portrayed the villain role in the movie. But in some ways, Dolores Madrigal played the role of one opposition as she wanted to ruin the gift of Isabela.
4. Will there be Encanto 2?
There is no further information from Disney about having the second version of the movie.
Conclusion
The movie was a huge success and was made in the Spanish language and also featured more than 250 characters. Let's enjoy the movie and tell us your opinion about the film. Just stay tuned to Inspirebuddy to get new updates like this.